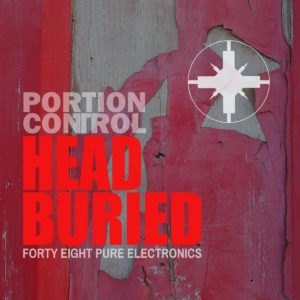 Portion Control
Head Buried
self-released
The re-invigoration of long-standing electro-punk legends Portion Control over the past fifteen years has not only yielded some great records, but also the opportunity to appreciate just how raw and angry the duo have remained. Violently Alive and Pure Form both yielded solid EBM club floor bangers, but also reiterated how direct and sardonic Portion Control always were. On a first pass, new LP Head Buried perhaps takes the foot off the gas, but while the tempos may be slowed down and not all of the beats may be as punishing as on previous releases, but Dean Piavanni and John Whybrew have plenty of other means of staying mean.
Portion Control have always been happy to retrofit their sound, jerry-rigging together elements at hand to augment their minimal but caustic programming. That tradition continues here, and they've found some great ways of keeping things heavy even while slowed. Wormy and twisted bass frequencies fill the space between the title track's beats with a simultaneously metallic and oozing squall. "Degrade" feels like vintage big beat executed at half speed, with just enough distortion added to the nodding bass to underscore the fatalism in Piavanni's voice, intoning "one day there will be nothing left" over and over. The throwback rave of "Regulation One" has Piavanni's own vocals being sampled and chopped alongside whirling stadium house programming, while the chilly and ghostly "Ninth Child" almost sounds like a VivisectVI outtake, with Portion Control perhaps receiving in kind the inspiration they lent Puppy.
The band's more experimental dimension, often catalogued on interstitial and compilation releases, is also allowed to make its presence felt via bleak dub rhythms and pure reverberating noise. The deep-space drones and kicks of "DROP03 00b" perhaps make as good a case as any element on Head Buried for the band's enduring cult appeal and their influence on countless post-industrial acts – tense, doomed, yet undeniably hooky, it sounds of a piece with any number of vintage Clock DVA or Haujobb cuts, but also with the steely eye Portion Control have always cast outward.
Portion Control have absolutely nothing left to prove to the genre they helped forge decades back. The fact that they're still releasing exciting material while celebrating their fortieth anniversary is, of course, a blessing to longtime fans and younger listeners perhaps just coming to terms with their legacy, but is perhaps only made possible by virtue of them working to exorcise their own anger, rather than to please.