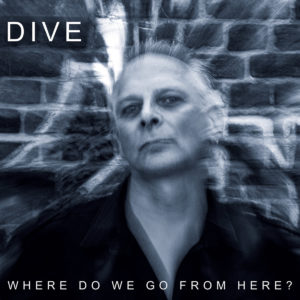 Dive
Where Do We Go From Here?
Out of Line
Dirk Ivens' Dive is massively influential: dark electro, aggrotech and rhythmic noise all took genre-wide cues from the ex-Klinik frontman's long-running project in the genres' infancies. While that's a widely acknowledged phenomenon, it still feels as though Dive is less celebrated than many of Ivens' other equally influential musical endeavors. Thus, the arrival of a new record from the project in 2020 via Out of Line receives less fanfare than it probably should, but is certain to prick up the ears of seasoned industrial fans. That's a way of saying Where Do We Go From Here? is a record mostly of interest to deep scene heads, who are also the folks best positioned to identify its numerous charms.
Created in collaboration with Jan Dewulf (who has previously collaborated with Ivens on the Dive vs Diskonnekted Frozen EP), the sound of the album is classic Dive albeit with a modern production sheen. Ivens' work in the project has never been about hooks or choruses, relying instead on caustic textures and Dirk's own considerable charisma as a performer. That formula is exercised extensively across the nine track LP, with degraded percussion, saturated bass synths and blasts of white noise arranged for impact; opener "Inside Your Head", mid-tempo head-nodder "Leave Me Be" and the atmospheric "Invisible" are all good examples of the versatility of that blueprint. It's all about atmosphere, as evidenced by the title track where an escalating arrangement of drum hits sits in stark contrast with mournful pads and Dirk's distinctive vocal delivery. There's certainly some moments on the record that could have done with a bit less polish – "Black Star" has a wonderfully nasty groove at its heart but has some of its tactility sanded off in the mix – but by and large the production complements the songs.
The secret sauce of so many Ivens projects is of course Dirk's forceful and cold-blooded vocals, and this record is no exception. It's partially that Ivens is so good at seeming dispassionate even when he's being assertive; whether he's engaging with his pet themes of mental and emotional illness or imprisonment or outlining the inescapability of total destruction on "Death Machine" it feels less like a personal excoriation and more like a clinical (if emphatic and slightly contemptuous) statement of fact. It's not mechanical or dissociative in practice, just Dirk laying things out as he sees and feels them, which ends up being the quality that makes Dive sound and feel like Dive.
Where Do We Go From Here? is a quintessential Dive record than, alternatingly ice cold and feverish, isolated and claustrophobic, with those distinctions sometimes coming down to ever so slight variations in execution and subject matter. It's not hard to draw the line between it and the earliest and most influential records using the moniker, a testament to the primal quality that has always informed Ivens' work. I can't imagine wanting anything else from a Dive record at this stage in Dirk Ivens' storied career.