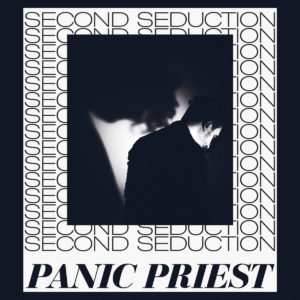 Panic Priest
Second Seduction
Negative Gain Productions
It's about halfway through Panic Priest's sophomore album, specifically during the track "We've Got the Cause", that the project's shift in approach really starts to sink in. The big chorus, the baritone vocals, the textural synths and gated snares aren't new to Jack Armondo's work by any means; the band's 2018 debut revolved around those elements. But nothing on that album rocked in the way "We've Got the Cause" does either in terms of energy or execution. To wit, this LP seems a full-on arrival into proper goth rock territory, a move that suits Panic Priest well.
To be clear, it's not like Armondo has fully changed his MO. The intricacy of his productions is still apparent, and his distinctive vocal delivery feels very of a piece with the project's previous output. That said, numbers like opener "In All Severity" have been arranged around propulsive mid-tempo rock rhythms, with twinkling synths accenting it's wiry verse and chorus structure. The deeper you get into the album, the more clear the shift in posture becomes: "Lonely City" is an absolute corker of a club number with a simple guitar lead and sneaky use of synths for texture, the songcraft emboldened by just the right amount of looseness in its performance.
That's probably a function of confidence; where the self-titled debut often felt constrained by how exacting everything was, Armondo allows a lot more leeway here. There's still obviously a strong hand on the rudder of a song like the upbeat and hooky "Shiver and Crawl", but with drums, synths and chunky guitars sitting in a syncopated pocket giving it some elasticity and movement. Similarly "Night Hunter" thrives because Armondo's studied vocals show emotion, the track's automated drums and pads allowing him room to croon in a poised but flexible fashion. Panic Priest's production and studiocraft is still impressive, but is second to the songs, which are catchy and memorable.
Second records aren't easy, and often either lack the energy of debuts or simply have worse material. Panic Priest sticks the landing here, with a stylistic shift that puts the projects songs in a good light and lets them really breathe and feel alive. It's a big step forward and a direction we're both impressed and pleased by.