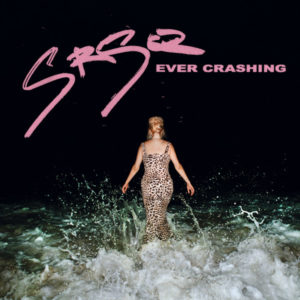 SRSQ
Ever Crashing
Dais Records
"Light breaks in through the windowpane." It's a simple enough image that the lilting, slowly unfolding reverie of "It Always Rains", Ever Crashing's opening track eventually settles upon as its refrain. But coming on the heels of Kennnedy Ashlyn's heartbreaking reckoning with grief on SRSQ's first record, it speaks volumes. A record of rebirth, reaffirmation, and leaps of faith, Ever Crashing finds Ashlyn reconciling herself to sublime forces far larger than the self and celebrating their reverberations within our lives, loves, and memories.
Perhaps more than anything else in her considerable arsenal as a performer, Ashlyn wields intimacy with disarming and often breathtaking effect. That's very much the key to Ever Crashing, a record where you spend every moment in close proximity to her, as she works her way through the ongoing business: being alive. If that sounds especially heavy, then it should be noted that the universality of the experiences Ashlyn explores, and her willingness to embrace joy and the plain absurdity of life in proportion to its hardships give the record a light and ethereal sense of comfort and warmth. As she half-laments, half-relishes the passage of wasted time on the breathy "Saved for the Summer" or revels in the contradictorily joyous and wistful feeling of love obscured on "Used to Love" you can hear Kennedy reckoning with the tiny complexities of emotion in her own inimitable fashion. That willingness to be both simultaneously confessional songstress (as on the plain lament for guidance "Fear") and camp torch singer (the towering Badalamenti-pastiche "Abyss") has a rare, and captivating authenticity.
It's worth noting exactly how different Ever Crashing is instrumentally from anything we've heard from SRSQ up til this point. Midwifed by producer Chris Coady, who brings the talent for sun-soaked dreaminess he's previously employed in service of Beach House and Slowdive, it's a record that invokes the classic 4ad catalogue in instrumentation as much as it does emotion. While the dream-pop and broader rock elements which made up Them Are Us Too's approach to darkwave took a backseat on the synth-forward Unreality, but come rushing to the fore on Ever Crashing The similarities between Ashlyn's work and The Sundays has been apparent since her earliest releases, and it's as apparent as ever on the title track. However, "Ever Crashing"'s build towards fuzzed-out smears of reverb (as well as a sample of what seems to be dog barking?) lends it a psychedelic sensory overload that goes far beyond those influences. The use of a speedy amen break as the foundation of closing track "Someday I Will Bask In The Sun" perhaps feels out of step with the mid-tempo, magisterial pace of the majority of the record, but much like the inclusion of "Soon" at the end of shoegaze masterpiece Loveless, the sugar rush of pure, cathartic bliss the track carries seems to necessitate it. The sound of candyflipping at a Christian rave, it has an unhinged energy yet is guided by sanguine vision and harmony.
Henry Miller held that "each moment lived pushes open a greater, wider horizon from which there is no escape save living". The existential work of that living is often onerous and rife with pain, grief, and despair. Yet when attended to from the right angle, at a certain frequency, that duty of life becomes electrified and imbued with profound joy and disarming ease. Ever Crashing is just such an attenuation to that frequency, its capsules of rapturous melancholia and more elusively, bliss, pushing through the listener and outwards into the infinite. Highly recommended.