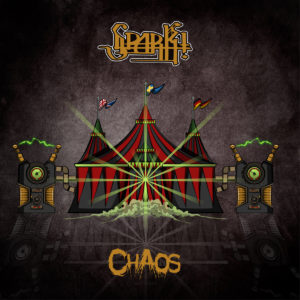 Spark!
Chaos
Progress Productions
Chaos is the second full-length LP from Swedish EBM act Spark! with Christer Hermodsson (Biomekkanik, ex-S.P.O.C.K.) as vocalist, and is the best the group have sounded since the departure of founding vocalist Stefan Brorsson. Leaning hard into the anthemic choruses and thick production that have long been Spark!'s calling cards, Hermodsson and Mattias Ziessow have carved themselves a niche that has less to do with the project's neo-old school roots than it does their own specific sonic identity. Chaos is this incarnation of SPARK! sounding effortlessly and invigoratingly like themselves.
The real secret of Spark!'s sound is in their sneaky-good melodies. Spark! have always known their way around a hook, but the specific way they get laid into the tracks on Chaos bears examination: "Släpp In Mig"'s tight bassline and percussion track make up the bulk of the song's instrumental, so it's up to Hermodsson to belt out a vocal track that gives the song identity and flavour, varying up his delivery from verse to chorus and back to add dimension. Similarly, English-language outing "Cause and Effect" is driven by a pleasingly hefty rhythm track, but is memorable due to the way that the vocals reiterate the same motifs across various sections and with different deliveries.
Smart arrangement and production are the other things that Spark! have going for them here, almost intangible qualities in terms of enjoyment but key to the album's listenability. While all the songs are based around classic verse-chorus structures there's plenty of smart choices in the ways those are put together; the instantly catchy "Två Mot En" makes a meal of a clever half-time breakdown and tumbling percussion build that gives its four and half miniutes surprising carriage, while the clever way a lead presents itself as an iteration of the bassline on "Jag Vet Vad Du Vill" lends the song some extra melodic oomph. The record's energy is also supplemented by the use of naturalistic and occasionally rock-like drum fills and patterns, another Spark! trademark that feels especially on point throughout the proceedings.
While not a perfect record – it suffers slightly from sameyness in the middle – it's honestly the best SPARK! have sounded since the release of their cult genre classic Hela Din Värld in 2012. Chaos is an exercise in refinement in every way, with the band having found the sweet spot for the things they do well and going all in on them. Nobody else really sounds like Spark! do these days, and that's a function of Hermodsson and Ziessow's dedication to their own unique take on modern EBM.