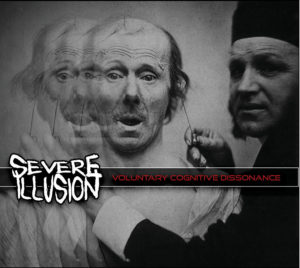 Severe Illusion
Voluntary Cognitive Dissonance
self-released
It's an idiosyncratic distinction, to be sure, but Sweden's Severe Illusion have surely wrested the mantle of 'most notable industrial act focused on mental health' from Kiew over the last few years. That might sound on par with 'most notable Frenchman to have eaten an airplane,' but the way that Fredrik Djurfeldt's work has zeroed in from a broader misanthropy onto taxonomies and treatments of all manner of psychological conditions (and cultural pathologies) has dovetailed perfectly with Severe Illusion's music. New EP Voluntary Cognitive Dissonance offers an uncompromising yet catchy mission statement to this effect.
The proximity to classic Ivens material which first got us on board with Severe Illusion circa No More Alive Than You Deserve is once again established in Voluntary Cognitive Dissonance, albeit with some unexpected litheness to offset the characteristic bleakness. The consciously throwback bleeps of "Humiliation (Parts I & II)" conjure the Atari 2600 as much as The Klinik, and the bounce of the programming and breezy sweeping pads makes clear nods to the importance of synth melodies in classic dark electro. But even when it's not feigning at playing nice there's a clarity to this EP that refreshes Severe Illusion's delivery. "Neocolonial Spasm" has the sort of bricked-in kicks, chopped and distorted vocals, and bare bones programming which have made the act a favourite amongst industrial purists, but the grain and texture of those elements are rendered in sharp and distinct detail, right up against the listener's ear in the mix. Hi-def, low-mood, if you follow.
It's a brief release, but Voluntary Cognitive Dissonance is the purest and most approachable distillation of Severe Illusion's appeal we've heard in a good while. Djurfeldt's yen for roots electro-industrial and dark electro help to make the EP's aesthetic appealing to first-timers, but it's the cool and steely way in which it faces the darker sides of the human condition which cement Severe Illusion's continued haunting presence.