INVA//ID
The Dissociation Ep
self-released
Los Angeles industrial project INVA//ID has been simmering for a while, developing the raw industrial sound of their debut LP Masochism in D Minor into something more potent. Their 2021 output – specifically their collaborative EP with null split Chained, Burnt and Split and their excellent remix of Dawn of Ashes – has shown how much Christopher Rivera's project has muscled up since becoming a trio with the addition of Krz Souls and Brendin Ross. Tracks from the former release are combined with remixes on The Dissociation EP to hammer the project's meanness home, while also demonstrating some newfound versatility. Where the title track uses wrenching vocals from Rivera and grinding synths to offset it's clean hitting kicks and percussion, and "Commitment" flips up its arrangement using a bridge as a chorus, new track "The Cruel Division" digs deep on classic dark electro sounds, drawing a line to the EBM that birthed the style. Those variations are reinforced by the releases remixers; Black Magnet taking things into fully-mechanized industrial metal, QUAL providing a typically caustic and minimal club mix and the band's own Krz giving "Commitment" a side-chain heavy aggrotech makeover. It's forceful and bellicose stuff to be sure, but beyond the hostility you can hear a band truly coming into its own.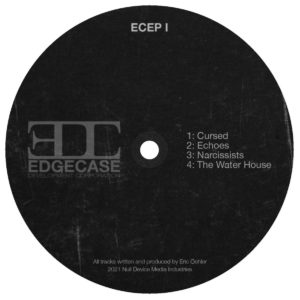 Edgecase Development Corporation
ECEP 1
Null Device Media Industries
Eric Oehler's work in longstanding American synthpop act Null Device has earned him plenty of plaudits, but those jumping into his new solo project Edgecage Development Corporation's debut EP will likely find more crossover with his recent incarnation as one half of Klack. Like that band, EDC is indebted to plenty of vintage dance and electronic subgenres, but ECEP 1 eschews the new beat styles of Klack to dig deep into squelchy acid and throwback techno. The grand scope of "The Water House" welds elegantly wormy programming to a surprisingly affecting chord progression while the pings and taps which alight across "Echoes"' wet programming suggest a strange no man's land between stadium house and psytrance. Oehler's talents as a producer and mixer play well here: in addition to the solid sculpting of the heavy kicks of "Cursed", it's a refreshing change of pace to hear some percussively dense, slightly dark techno which isn't overdriven into distortion, intentionally or otherwise, as is the case with plenty of current releases.