End to End is our track-by-track take on non-album and compilation releases, in which we try to give thumbnail first impressions of each song and point to particular numbers to be cherry-picked via the consumer's online retailer of choice. This week we're having a look at a newish EP by a severely underrated scene band who've been around for quite some time…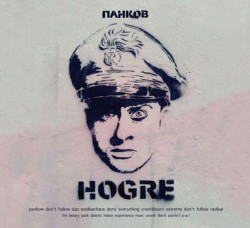 Pankow
Hogre
Out of Line
Over 30 years in the game, and Italian EBM players Pankow are still going strong by all indications. I'll admit to not having copped any of their post-millenial records, but a recent recommendation from friend of the site Jacek Kozlowski coupled with the news that they were signing to Metropolis for the domestic release of their forthcoming album And Shun The Cure They Most Desire piqued my interest in their late 2012 EP Hogre. Comprised of mixes of songs both new and old, I'm keen to see if these longtime body music purveyors have made it into their 4th decade with the energy, wit and artsy leanings of their classic material intact.
"Don't Follow (Hogremics Remix By FM)"
Oh dudes, this jam has me so excited already. Remixed by Pankow's own Maurizio Fasolo, it has a thick bass synth and slowed tempo that actually makes me think of C-Tec a little. And the chorus is fire, exactly the kind of sardonic but genuine sentiment that Pankow have been trading in for decades. At 10 minutes this is a slap in the face to scaredy-cat DJs, but fuck 'em, I'd dance to it happily for that length of time and maybe longer, the groove is irresistible. Top marks.
"Das Wodkachaos (Binary Park Remix)"
This a remix of a much older song from Pankow's occasional German vox period in the 80s. The original is almost all percussion and yelling, and Binary Park have wisely stuck to that template, although the sounds have a pleasingly modern slant to them and the buzzy lead that pops up midway through certainly isn't unwelcome. Solid mix, and might make for a good transitional track between older and newer body music styles in a set.
"Deny Everything (Plastic Noise Experience Remix)"
I never heard Pankow's 2007 record, but the original version of this was the lead-off track apparently. I kind of really want that record now, since the retro EBM feel of this mix is really doing it for me. PNE do this sort of thing well, of all the bands who trade in classic body music styles they're amongst the most cleanly produced and have some of the best crossover potential, this is no exception. Speedy drums, big bassline and hooks all over.
Crash & Burn (Memory Lab Remix)
Another new number, and the first not to be remade by some iteration of Pankow themselves on the EP. I dig the grinding electro vibe and the chorus is good and catchy. It's minimal but full-bodied, making the most of the elements it does use, pushing fast through a few different arrangements and delivering a tidy club mix. Good stuff once again.
Extreme (Remix By Die-6)
I'm a bit less fussy about this mix, if only because it feels long at less than four minutes and is sort of aimless. Die-6 play the old reverbed and delayed vocal fragment card here, and although that trick can yield good results, there just isn't much to capture my attention. Not terrible, not that interesting either.
Don't Follow (Escorbuto Remix)
Another much more halting and noisy remix of "Don't Follow". Although it's not wholly charmless, I just can't imagine preferring its clacky, bleepy sounds to the killer version of the song that kicked off the EP. It's okay if you wanted another rendition of the song I suppose.
Radikal (Nems-Secam Rmx)
This one is just odd, featuring a weird processed vocal and big droney pad over bitcrushed drums. It's kinda hard to get at the song underneath all the effects. Pankow wear weirdness well, but this just doesn't have that much to recommend it on its own. Still, not bad, just a strange way to end the EP.
The Takeaway: Okay, so it's front-loaded, but those first four cuts are stellar enough to excuse the middling quality of the last three. It successfully got me excited for the forthcoming album and actually made me want to go back and peep some of their more recent records, which is a pretty useful measure of success for a remix EP. If you want a taster, I'd recommend the FM and Binary Park remixes, but really, I have no issue with recommending a purchase of the whole thing. I listen to a ton of these sorts of remix releases, and it's one of the few in recent memory that has inspired me to put it on as something to listen to instead of just throwing the best songs into my (virtual) DJ crates. Album drops in March, consider me pre-sold.
Hogre is available via most major digital retailers, and as a limited edition CDM.