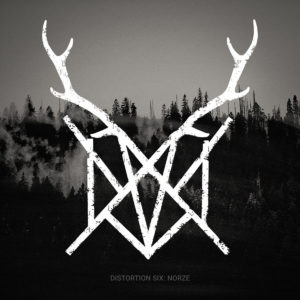 Distortion Six
Norze
Ant-Zen
While die-hard fans of the long-running label might take umbrage at attempts to pigeonhole it, there's no denying that the legacy of Germany's Ant-Zen is inseparable from that of power noise. While Stephan Alt has has also curated records which cleave more to the technoid and downtempo side of things as well, it's impossible to hear the style of densely packed beats and roaring distortion which Norwegian producer Nichlas Shermann releases as Distortion Six and imagine Norze being released on any other label.
The core of the fifth Distortion Six record is built around rhythmic breaks, alternately compressed and brapped to the point where they melt into each other ("You Are Already Dead") and stretched out and warped through various filters ("Haxer"). While there's certainly plenty of overt aggression in these tracks, it's not Shermann's first rodeo: he's studied the originators of the style enough to know that an LP can't be carried by pure excess alone. You can hear the influence of Noisex and Imminent in the spacing and tweaking of arrangements, and Shermann's taken care that tracks don't bleed into one another, with each having its own internal sense of sound design.
Norze makes a go of having a specifically Nordic theme, but apart from some black metal vocals added to "Ritual" this is mostly limited to surface sampling and titling. Speaking personally, I was jazzed to hear some Fist of the North Star samples; hardly the most Scandinavian of sources, but hearing post-apocalyptic martial artists bluster at one another certainly matches well with rhythmic noise.
Norze doesn't radically recast power noise in a new light, but then again I don't think it's trying to. Taken as a formal exercise in a traditional expression of Ant-Zen's original house style it's perfectly enjoyable. Sometimes it's just nice to throw on a new homage to the classics, even when said classics sit at the most discordant and violent edges.