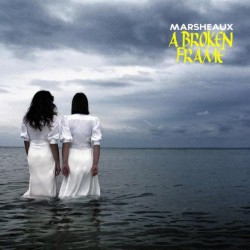 Marsheaux
A Broken Frame
Undo Records
Depeche Mode's position is almost universally sacrosanct amongst lovers of dark and electronic music. I'm no exception, and regularly point to Violator as an example of just how close to objective perfection an album can reach (I'm also of the opinion that 101 handily bests Stop Making Sense as the best concert film ever created). I say this only to establish that when I say that I generally don't like Depeche Mode's early albums, it's not out of a distaste for synthpop or the overarching legacy of Martin Gore's work; it's primarily because albums like A Broken Frame fail to excite as examples of either category.
Greek synthpop duo Marsheaux's move to cover the former album front to back thus had me feeling a bit trepidatious. After the departure of Vince Clarke, Martin Gore was faced with writing material which on one hand measured up to the bubbly fun of Speak & Spell yet could also plot out a course all his own. In my evaluation, it took Gore a while to get the balance right (sorry), with A Broken Frame failing to live up to Clarke's sense for melody, and inartfully striking out at the darkness and unease which he would later master. Marsheaux's take on the album won me over not so much because of or in spite of the source material, but through a keen sense for arrangement and instrumentation, the credit for which should be shared.
At times Marsheaux seem to be retrofitting A Broken Frame to match the craft Mode would go on to earn. In particular, "My Secret Garden" has a swing and sly sense of transgression which can't be found on the original, but is the operating principle of, say, "Nothing" or "Policy Of Truth". This isn't to say that A Broken Frame is just the sound of Depeche Mode's synthpop eating itself; Marianthi Melitsi and Sophie Sarigiannidou use these bare-bones compositions as a platform for their own aesthetics, underpinning the treacly dross of "See You" with a menacing rhythm section that's part minimal wave, part Suicide. "Nothing To Fear" gets a motorik tune-up which feels entirely in keeping with the work Marsheaux had previously plotted out in Lumineux Noir. Slowing down the once riotously effusive (and embarrassing) "The Meaning Of Love" with high-pressure sidechaining and stripping its near-glissando indulgences to sparser notes also speaks to the instincts Marsheaux have honed after a decade in synthpop.
Feel free to take the endorsement of someone who doesn't think Depeche Mode hit their stride until Black Celebration with a grain of salt, but if even a doubter like myself can get excited by the new life (sorry again) Marsheaux breathe into these tunes, then the devout for whom all things DM are sacred (okay, I'll stop) should find even more to love. Marsheaux's A Broken Frame isn't so much a tribute to one particular moment in the Depeche Mode catalog as it is a testament to just how far synthpop, whether penned by Gore or Melitsi and Sarigiannidou or anyone else, has come in the three-odd decades since its supposed heyday.