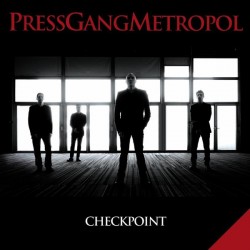 Press Gang Metropol
Checkpoint
D-monic
Old goths don't die, they just learn to look better in suits. The reformation of three quarters of celebrated 90s French goth act Corpus Delicti under the Press Gang Metropol banner has been in the works for several years. The steady stream of demos and videos which the band have dropped over the past several months has let listeners get acclimatized to Christophe Baudrion, Franck Amendola, and Sébastien Pietrapiana's new sound, allowing their debut to be listened to on its own terms. And, while connections between PGM and its members' goth pedigree can be ferreted out if one so chooses, you'll missing the forest for the trees if you get too hung up on that. Instead, Checkpoint finds the French outfit making good use of a variety of new wave and post-punk tropes which are most effective when exploring quieter, more fragile territory.
Lead single "Answers" (which bears a not unpleasant resemblance to New Order's "As It Is When It Was") prefigured Checkpoint's best qualities well; chiming guitars, echo-heavy bass and light swashes of keyboards to accent Pietrapiana's excellent vocals. Other tracks make slight adjustments to this formula; the sweeping guitars and building chorus of "Parade" bring The Chameleons to mind, while the delicate guitar lines of "Sound Waves" suggests Lowlife's melancholy nostalgia, before ratcheting things up for a rhythmically punchy chorus. If there is a touch of goth to be found here, it's in the vox. Never falling into histrionics, they lend a regal tone to whatever they touch upon: regret, hope, reflection.
Checkpoint does reveal Press Gang Metropol to be more adroit at the subtler, more shaded areas of post-punk than the harder, angular stuff. The on-the-nose guitar chords of opener "Until" and "National Prime" shows that it isn't just the old masters of post-punk that PGM are interested in, but in comparison to their lusher moments there just isn't as much to hold onto on those cuts. At thirteen tracks and a full hour, I do feel as though a couple of weaker tunes could have been cut to make for a more streamlined listen. That said, the production is solid throughout, regardless of the tone of particular songs, with the drums and the subtleties of Pietrapiana's intonations balancing propulsion and intimation expertly.
In an earlier piece about Corpus Delicti I made some mention of their gentle, almost out-of-character cover of "Atmosphere", and it almost feels as though much of Checkpoint's DNA can be traced to that track. Gracefully understated in a way that the ever-impassioned Corpus Delicti normally wasn't, it nevertheless managed to speak to the power of the original while lending it a fresh and personal perspective. There are plenty of markers of earlier bands to be found in Checkpoint, but all filtered through the prism of PGM's years working together (under whichever guises), and the shifts made by their muses in that time. It's a stronger record for that.