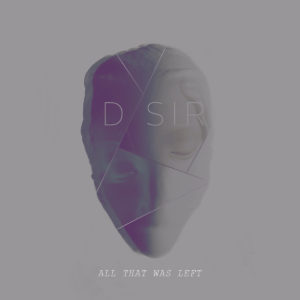 D/SIR
All That Was Left
Basic Unit Productions
The last time we heard from LA duo D/SIR, they were molding their post-witchouse sound to pursue some higher-gloss but still decidedly somber and gloomy worlds with Wilde's Crown. A lot's evidently changed in the intervening three years. While the production and atmospheres which have always seemed to come easily to Emily Steigerwald and Hex Wolves remain, All That Was Left brings a hefty amount of bounce and pop to the mix, adding further texture and cross-hatching to a still dark palette.
Pitched-down beats and grooves formed the grounding of earlier D/SIR releases, and while rhythm is still afforded a good amount of attention, given the tempos of tunes like "Black Cat" and "Violate Later" it's tough to tell that one's listening to the same band. D/SIR are decidedly speedier, if no less gloomy, than they've been before but sound surprisingly adroit at programming to suit. The warm, low-attack synth lines which dance through "Black Cat" and "Marked" bring defunct IDM/synth act MEND to mind, but the combo of pensive mid-tempo beats and florid pings on "Violate Later" recall fellow Phantasma Disques alums Prosymna. Regardless of reason or influence, the changes D/SIR have made immediately yield catchy and slinky dividends.
The other major change All That Was Left heralds is the emergence of Steigerwald's vocals as a major focus of the band's sound. Alternately raspy and willowy, sometimes chiding and sometimes weary, her turns on "Ask Him" and "The Fog" complement the record's more direct style. In seeking to push the witchy sound as far as possible from its low-fi roots, D/SIR have perhaps returned to some of its precursors – darkwave and trip-hop – and Steigerwald's vocals are an ideal means of acclimatizing themselves.
All That Was Left is finding release on Basic Unit Productions, which seems an ideal home for this new iteration of D/SIR. Apart from its dark techno concerns, releases on the label from Black Nail Cabaret and TSTI have shown that the Haujobb boys have an ear for bands who aren't afraid to be sharp and even poppy as well as dark. D/SIR are a somewhat surprising addition to that milieu, but are proving themselves fast studies. Melding clean synth sheen with their established moody ethos, All That Was Left is an unexpected but welcome development for D/SIR.