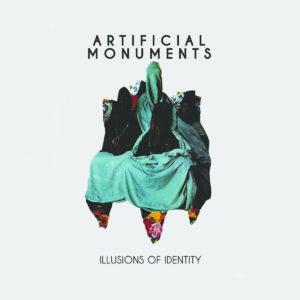 Artificial Monuments
Illusions Of Identity
Dead Wax/Funeral Tapes/Rusted Teeth
The tragic circumstances underlying the debut from Copenhagen's Artificial Monuments are perhaps best left to be explained by the care fundraiser set up for their vocalist, Johannah Jørgensen. Between that and the corresponding foreclosure of the band before their debut was released, Illusions Of Identity carries the bittersweet experience of hearing a new and fully developed band (especially one featuring a number of dark synth luminaries) for the first time, but also understanding why it will be their sole formal release. Illusions Of Identity thus arrives with ominous but captivating import, a feeling which is perhaps matched by the record's coldwave combination of gloom and pop.
Artificial Monuments are working in the vein of classic European coldwave, both in terms of mood but also richness of execution. For every heavy number full of icy pads which move along at a dirge (like the opening two tracks), there's one which comes to life with something bordering on whimsy, like the nimble "Wasteful Days" where early synthpop sequences are revisited and set aloft. It's worth mentioning that this variety isn't just brought about by the core members of Artificial Monuments tenures in a range of other acts (Moth, Little Boy Lost, Metro Cult), but also by the vocals. While half of the record's vocal tracks feature Jørgensen, collaborators like Mala Herba, Sally Dige (Jørgensen's sister), Ina Noire, and Cecilia Wörlén each have their own reads on the lyrics and only serve to open up Artificial Monument's pop dimension.
The band cite Iron Curtain as an influence, and it's easy to detect the California act's hypnotic rhythms on "Cold Lies" and "Incremental Vex". The way that the record's vocals, be they Jørgensen's or otherwise, often seem to be being pressed down and muffled by slabs of synths also seems like a nod to them, or perhaps further back to Snowy Red. But as much as they are inspired by original coldwave material, Artificial Monuments don't let it inhibit their own personality. Closing piece "Tired Bodies" finds equanimity between dreamy synths and a near-rhumba drum programming, giving Wörlén's delivery of Jørgensen's reflective words equal parts desperate gravity and wistful abandon. It's a powerful closing statement which brings both the dark and the light in Artificial Monuments' work into uneasy yet beautiful accord.
It's difficult to listen to Illusions Of Identity's somber highlights without thinking about the reasons why it's both the band's debut and their last release. But with or without that context, the record's able to communicate a full and complete ethos musically and emotionally.