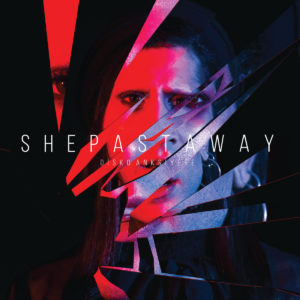 She Past Away
Disko Ankisyete
self-released/Metropolis/Fabrika
The name of She Past Away's third album Disko Anksiyete (Turkish for "disco anxiety") is a fiting enough title; the duo of Doruk Öztürkcan and Volkan Caner make darkwave of an appropriately gloomy cast, suitable for dancefloors and solitary listening alike. As an overture to a global audience (their first two LPs having seen recent re-releases in North America via Metropolis Records) it's a best foot forward affair, showing off what they do well with the material sequenced to solid effect.
Driven by a solid electronic rhythm section, the songs on Disko Anksiyete fall squarely into the rich intersection of darkwave and goth rock. Early numbers like "Durdu Dünya" deploy guitar and bass sparingly but effectively, accenting choruses, showing up in transitions between sections and the like. It's very straightforward playing that puts the record in a solid light, layering melodies and providing some extra momentum. Interestingly, the nature of the songs themselves often dictates how those instruments are read; the playful new-wave stylings of "La Maldad" (notable for being a track when the band switch from singing in their native Turkish to Spanish) make its twangy two-step guitar lines reminiscent of a Sigue Sigue Sputnik cut, and the bass guitar-driven four on the floor tempo of "Renksiz" brings Sisters-era Patricia Morrison to mind.
It's easy enough to spot the band's influences; the Bandcamp copy for the record compares them to The Sisters of Mercy and Joy Division, and they've covered Clan of Xymox and The Cure, but you'd work it out pretty quickly just by listening. And while the band keeps things well within the ground defined by those ur-sources, they do a reasonably good job of synthesizing it all into a whole. The title track has a nimble synth bass motor in it, but goes the road of anthemic rock melody on the chorus, underlined with a choppy bit of synth programming. "Girdap" works a similar trick in reverse, with verses that start high, then descend before breaking into wistful six string filigree and lush, mournful pads.
Records like Disko Anksiyete are always best taken on their own terms, as genre exercises that are trying to invoke and pay homage without breaking new ground. As backhanded as that sounds, it's also the nature of working in a vein of music largely defined in decades past. She Past Away know the ropes and do their level best to bring energy and inspiration to the proceedings. Their efforts aren't in vein and ultimately deliver an enjoyable LP with a few club contenders and a solid workrate, fit for deep genre fans and casuals alike.