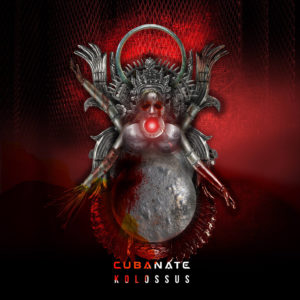 Cubanate
Kollosus
Armalyte Industries
New music from Cubanate comes with ungodly high expectations for industrial fans of a certain era. Marc Heal and Phil Barry have done yeoman's work as a live festival and touring act since they reactivated for Cold Waves in 2016, but the question remained: could they recapture on record the intensity of their guitar and electronics driven material 20 years since they last cut an album together? Kolossus' arrival provides an answer in the affirmative, and while it certainly has the piss, vinegar and blood pumping puissance of their classic material, it also bears the mark of experience and, dare we say it, maturity.
That's to be expected to a degree, as neither of the groups constituents has been absent from creative endeavours. Barry's industrial-rock project Be My Enemy and recent work with Keef Baker as Word Made Flesh have shown his range as a guitarist and programmer and the material on the EP allows him some room to show that off. Where the bands classic material relied on quantized chopping and sequencing of guitar parts for machine-like riffing precision, Barry's guitar here has a twisting, churning sounds that adds weight and power to the songs: check how his chugging riffs and long bends on the title track add scope to the tightly sequenced synthline and half-time drum part. He's still precise where required – see the ultra-tight playing on the verse of "Missing Persons" – but overall his guitar feels alive, fluid, and dangerous throughout.
And then there's Heal. Where his enjoyable solo debut album from 2016 The Hum was a more songwriter-driven affair with a focus on storytelling (perhaps an extension of his literary work) Kolossus finds him back in full old-testament mode, vigorously chewing his way through the EP's five originals. When he refers to the titular wonder of the ancient world as a tomb or punches syncopated syllables home with authority on "Vortex" it's executed with a sense of command authority. Of course he can still turn a wry observation here and there, with "Patter Recognition"'s theme writ large on its chorus: "Only got these hands to guide you/Only got this chain to bind you". Anger has never been the right word for him and how he delivers his lyrics. Wrath suits him better, with all the classical connotations of that word fully implied.
Kolossus is an exciting return for a legacy act of Cubanate's stature, especially given the two decades between the release of their final album and this one. It works a strong vein of minimalism in terms of its electronics, relying on meat-and-potatoes drum and synth programming as a backbone for their blasts of pique. It's spicy stuff, and no fan of the band's classic output should find themselves disappointed by its application of their signature ferocity.