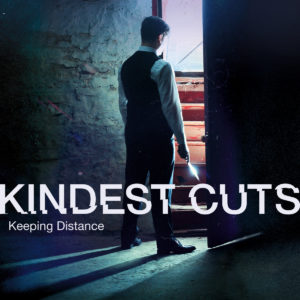 Kindest Cuts
Keeping Distance
Oraculo Records
No one would ever accuse Canadian synthpop project Kindest Cuts of being too prolific; despite having released material as far back as 2013 Patrick Short has only put a handful of tracks over the course of the intervening years. That said, Kindest Cuts' material has always been of such high quality that you'd be hard-pressed to complain – the project's small discography is all-killer-no-filler with replayability that has kept it in rotation well after each morsel was released. Oraculo Records has tapped into that existing material to produce Keeping Distance, a nearly complete survey of the project's work in an easy to digest package.
It's not hard to understand why Patrick Short's material is so strong; with their combination of instantaneous melodies and effective programming Kindest Cuts songs have a real immediacy to them. Take 2020's "Public Hell", where a sinister ascending bassline sets up a chorus that integrates processed doot-doot background vocals and bubbling synths that feel unexpectedly natural in spite of the tonal shift. Or how "Villains" ups the tempo and cuts down on the run time, with the synth bass and leads do quick-change transformations to create new sections without breaking up the flow of the track. Even when Short stretches out on the excellent "Handsome Killer" adding cello, sampled dialogue and metallic percussion it only serves to highlight how strong the song's vocal melody is.
Add to that the fact that Patrick Short is an ideal classic synthpop vocalist. His delivery has drama, familiarity and warmth to it, sounding smooth and sincere in ways that get his songs over. On the sardonic "All You Need is Money" he comes across as both earnest and disappointed, riding the song's peppy rhythm programming and summoning a little "Everything Counts" meets "When Do I Get To Sing 'My Way'?" magic. He's especially effective on the title track, a song about staying removed emotionally that has a genuine intimacy to it, controlled but candid. Short has a deep understanding of how to use his voice effectively in his songs, inhabiting them in ways that are both simple and effective.
While we wouldn't have minded hearing a few new numbers on Keeping Distance, the quality of the material is pretty impeccable. Despite being assembled from multiple sources it feels cohesive, and should serve as a excellent calling card for Kindest Cuts, hopefully expanding the project's small but loyal cult following amongst synthpop fans. Recommended.