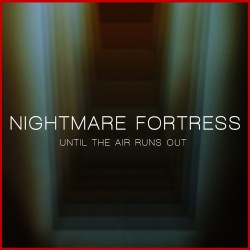 Nightmare Fortress
Until The Air Runs Out
Sweating Tapes
Hailing from Seattle, newcomers Nightmare Fortress have been gigging with the likes of Tearist and oOoOO. When we caught them live they were practically imprisoned onstage by walls of analog synths and coils of cable, a perplexing first impression to be made by a band on Sweating Tapes, whose signings generally don't eschew the "minimal" in minimal wave. It turns out that this seeming contradiction is actually a handy enough guidebook for navigating the hedge mazes and shuttered-up wings of Nightmare Fortress' debut EP.
As a rule, the vocals evoke a dreamy, drowned-world feel. Despite trading in sounds which are generally associated with the 80s, Alicia Amiri's voice is a far cry from the dispassionate monotone often associated with minimal wave. The work of such 90s chanteuses as Toni Halliday comes to mind, and counter-intuitively, the heavily-produced dreampop and shoegaze records of that era are perhaps worth thinking of while listening to Until The Air Runs Out. While never sounding as sleek or lush as, say, Loveless or Doppelgänger, its grimy, analog elements are densely layered and frequently bleed into each other in the mix, setting up a nice, all-encompassing sound.
Again, while one feels strangely compelled to make coldwave and minimal wave comparisons, the tracks themselves reveal different facets under closer examination. "Anxiety"'s quick pulse and slight synth nudges give way to an almost deathrock groove, while the far more complex and clicking rhythms of "The Castle" are augmented by nosebleed guitar, the sort of combination we found appealing in the work of prime "whatever happened to" candidates Lynx & Ram. Nightmare Fortress save the best for last, though, where Amiri's swooping vocals ride heated, flanging synths which build and fall over the course of "Visionquest".
The tension between a pair of dualities, minimalism and floridness, pristinity and grime, seems to make up a fair bit of what's in play in Nightmare Fortress' particular blend of dark dance music. They're sitting in close proximity to a number of current modes and subgenres, yet, while not really reinventing the wheel, can't be claimed by any of them. It's still early going, and after this taster EP I'm keen to see what the next move is.