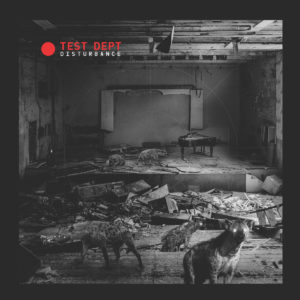 Test Dept
Disturbance
One Little Indian
There's an inevitability to Disturbance, the first album from Test Dept in more than 20 years. With the 2014 re-emergence of the now legendary original school industrial project having taken part in both retrospective and live action that speaks to their legacy as political firebrands, new music addressing the current state of UK politics felt like a certainty. What's most engaging and perhaps unexpected, however, is how Paul Jamrozy and Graham Cunnington have found new means of sonic expression that aligns both with the resolve of their message and the weighty history associated with their catalogue.
Musically, Disturbance takes the clanging percussion and post-industrial sample work of their eighties material, and spikes it with modern sound design, largely forgoing the electronica flavour of their 90s output. As a result the record feels like it exists in a lineage with classic recordings like Beating the Retreat and The Unacceptable Face of Freedom. Opener "Truth to Power" specifically feels like a bridge from past to present, both in how it uses sampled strings, deep, modulating drones and lyrics that could have been written 30 years ago in the Thatcher years but sadly are just as relevant today: "Austerity is a lie / Poverty is a crime". "Information Scare" works a welcome industrial-techno angle, building up an insistent groove of synth bass and programmed drums, ornamented with addditional percussion and samples for variation in arrangement. Test Dept pull off the trick of sounding like themselves, informed by, but not beholden to their own past works.
As you might expect, Test Dept have a lot to say lyrically about the state of life in the UK, whether via a screed on the crimes of usury on "Landlord" or xenophobia and the weight of colonial history as on "Gatekeeper". For all the direct, unadorned anger on display, there's also a striking sadness and subtlety that pervades the record. "Debris" has a weariness that matches the light chiming of piano and bells which wander through a metallic soundscape, as questions of individual burden and the desire to be better are brought forth. Even somewhat positive closer "Two Flames Burn" has a note of uncertainty to it, intoning the mantra "We can build a better world" as the arrangement of synths and melodious percussion shift from steadfast to hesitant while samples regarding civil unrest play out. Vulnerability isn't exactly a trait you would normally associate with Test Dept, but it ends up adding humanity to their bombast.
Disturbance is as good a return from an act like Test Dept as you could ever hope for: the music and message of their storied discography is reflected, revamped and released at the moment it feels most needed. Recommended.