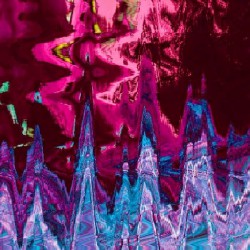 Kite
VI
Progress Productions
Here's an indulgence both of us at ID:UD have played out more than a few times: listening to the entire Kite discography back to front. Go on, try it. Even including new EP VI it'll take you less time than watching the newest Marvel flick and I guarantee you'll enjoy it more. You'll be struck, of course, by the incredible quality control Christian Berg and Nicklas Stenemo have exercised, with nary a dud track to be found. But, and this is where VI really shines, you'll be amazed at how far they've stretched their sound, moving from the manic sugar rush of feels in "Say It Ain't So" and "Looking For Us" to the glacial, gothic splendour that marks the sixth chapter in the Swedish synthpop saga.
Opener "Up For Life" reprises a theme Kite have taken up several times before ("Ways To Dance", "Jonny Boy"): making a conscious effort to revel, to find joy when melancholy seems so much more natural and perhaps comfortable. Kite are up for life, but also down to mope, as they've always been. Musically it's a stately and wistful affair, perhaps not so dissimilar from a few tracks on V, but after five minutes it radically transforms, with oddly pinched sequencers squiddling up to the cosmos while an only slightly creepy children's choir chants words of encouragement. It's a decidedly weird turn in the Kite program, yet like a well executed plot twist it seems oddly logical in hindsight. A strange new third path opens up between Kite's star-blissed synthpop and their gloomy dirges; the tentative movements of an ultraviolet butterfly emerging from the chrysalis of V.
There are more traditional moments on VI (the synth-funk of "It's Ours" and the brooding "Count The Days"), but the strange, almost spiritual feel of "Up For Life"'s ebb and flow hovers over much of the listen. "True Colours" turns the introspective pressure up even further, with odd, liquid hums and drops resonating through the cave of the mind. The pitted lunar landscape of closer "Nocturne" slowly rises into some alien aurora on a bed of timpanis and pads, offering finality but no illusion of catharsis.
For Kite, being yourself is a Herculean task but is, in the final analysis, the only thing worth attempting. Joy as an existential imperative isn't the most common emotional timbre for a synthpop band to strike, but Kite haven't ever been a common synthpop band. On VI they're pushing themselves further than ever, making forays into darker and more uncanny climes, continuing their noble quest to reconcile themselves to happiness.
Kite – True Colors from Nilfilm on Vimeo.