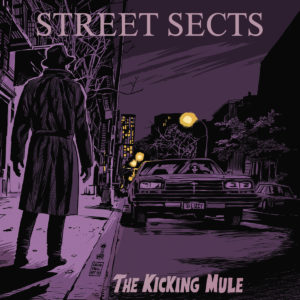 Street Sects
The Kicking Mule
The Flenser
Street Sects' 2016 debut album End Position was roughly as unpleasant to listen to as it was bracing and intense, a blistering white-knuckle blast of noisy self-excoriation that mirrored the intensity of the Texas duo's disorienting live show. Follow-up The Kicking Mule is no less nihilistic that the former LP, but does feel more ambitious in terms of arrangement. As an album it works a surprisingly musical angle that doesn't forego the group's controlled chaos approach so much as it harnesses it, picking up the threads of their various singles and EPs of the last two years.
That doesn't mean that this is a kindler gentler band by any means. "269 Soulmates" is a raw mixture of screamed vocals, live wire synths and strictly quantized drum programming that flips between outright violence and the anticipation thereof. It's exciting and dangerous as an opener, but also a bit of a feint, as Street Sects start to really explore what they're capable of. Contrast it with "Everyone's at Home Eventually", an alarmingly frank and confessional account of hitting rock bottom that is no less excruciating for Leo Ashline's matter-of-fact delivery and the song's emphasis on guitar. Street Sects are still about brutality, but have figured out how to achieve it without bludgeoning the listener.
Indeed, the terrifyingly literal "Suicide By Cop" is delivered with a grim determination that transitions to sickly sorrow as the song progresses, the wailing and groaning samples moulded to shield a simple synth melody, like someone desperately using their hands to keep a candle from being blown out by a high wind. Single "In For a World of Hurt" sets itself up with angular guitar lines that hold the song together, allowing it to tumble to its knees in an anguished breakdown as Ashline vomits out a litany of grief and recrimination, admitting to being "still between defeats" and demanding that he "stop reaching out".
Almost in direct contrast to how The Kicking Mule begins, closer "The Drifter" really highlights what Ashline and instrumentalist Shaun Ringsmuth have been able to achieve with Street Sects: while the song still features heavy drum programming and blasts of synthesized noise, the real power comes from its warbling candor and the sonic space carved out for it in the mix. By way of craft and refinement Street Sects are finding new ways to explore their personal hell, even as they chart their path out of it. Recommended.