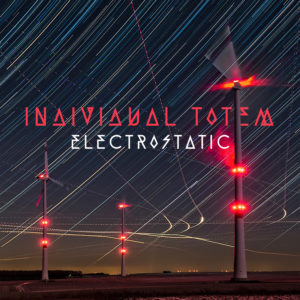 Individual Totem
Electrostatic
Artoffact
The re-emergence of Germany's Individual Totem hasn't been accomplished through specific or dramatic moment of return, but rather via a series of somewhat unanticipated releases and lateral moves, each of which has prompted reflection on the back catalog and potential future of the well-respected electro-industrial/dark electro act. After a decade out of the studio, the strident Mothfly appeared, only to herald Mathias Knopp's departure, ending the long-running partnership between himself and Bernd Madl. Madl forged ahead, and with new member Jürgen Moßgraber recorded Kyria 13, a science fiction concept record which introduced a warmer and more expansive sound. New LP Electrostatic is a record which shifts across the band's history, both recent and early, to mixed results.
Electrostatic is at its best when it takes Kyria 13's ambitious orchestral maneuvers in new directions, finding connections between rich synth strings and personal anthems rather than space opera ("Lullaby In A Snowstorm"), or when heavy-duty rhythms are carried aloft by sustained, harmonic chords ("Last Chance"). Callbacks to more straightforward moments in post-industrial history don't hold up as well, though. The speedy "Warriors Of The Sun", with its X-Marks type programming, or the stomping "Fire" each feel like nods to Mothfly, but don't hold the weight or ferocity of that record's more aggro moments. With the audacious scope of Kyria 13 in the rearview I can understand Madl and Moßgraber's desire to do a more freeform, open-ended record which touches on a range of sounds, but the gap between their newer and long-standing styles feels slightly fractured and anachronistic.
Madl's decision to present his vocals in as unadorned and undistorted manner for the entirety of the record also pays erratic dividends. On thumping opener "Perfect" the naive frailty of his delivery at the song's outset makes a great contrast with the gearshift into the aforementioned strings, finding frisson between the sentimental and the grandiose. Elsewhere, though, his often off-key growls feel mismatched on straightforward dark electro numbers in the classic Individual Totem mode.
Electrostatic's miscues are almost all the product of the band reaching for something new, something different, or at least a fresh recombination of established elements. Clearly not all of those gambles pay off, but when everything lands (again, "Last Chance" stands out as a highlight) it's clear that Madl and Moßgraber are still full of ideas for Individual Totem's future. That drive to keep experimenting is certainly noble for a project so long in the tooth, and even if not all of that experimentation yields great results, it's still enjoyable to chart.