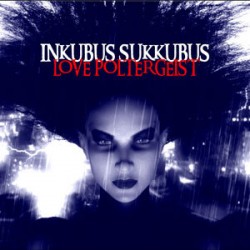 Inkubus Sukkubus
Love Poltergeist
Resurrection Records
You can't keep a good goth down, especially not when they're fueled by pagan fire and a devoted UK fanbase. Here I was, all set to note how much had changed in the two short years it'd been since Inkubus Sukkubus' last LP, The Goat, when I discovered that another LP, last year's Queen Of Heaven, Queen Of Hell had snuck in during the interim. I'm not sure what's being sprinkled on the band's Wheaties, but it's keeping them terrifyingly prolific. Love Poltergeist is at once more focused than The Goat's frolic, but isn't a return to the classic second wave sound which occupied much of Queen Of Heaven, either.
The symphonic darkwave passages which have always been easy to find around the fringes of Inkubus Sukkubus' catalog are given a more forward role, as are folky acoustic numbers. Those might seem like disparate sounds, but they're perfectly suited to both the theme of spiritual fulfillment through lust and nature (a recurring one for the band) and more sombre mood which marks much of the record. It's perhaps no accident that the album begins with the title track – possibly the most bombastic piece of work I can recall from the band, full of chimes, strings, and booming backing choruses – and closes with the sparse "Nemesis", made up only of acoustic guitar and Candia McKormack's images from the reaping times. Love Poltergeist falls between those extremes on most of its numbers, and feels like a much more goth record than much of Inkubus Sukkubus' catalog, even if it's one of the least goth rock (in the more restrictive sense of the term) pieces they've done, if that makes any sense.
Things do get a bit more traditionally rock from time to time, but its when those aforementioned elements share time with chuggy guitars that things work best. "Lips Of Love" builds up from a bed of strings with the repetition of its simple enough chorus, constantly circling and adding intensity, so that the return of Tony McKormack's familiar soloing style (well familiar to longtime listeners) is put in sharper relief. I wasn't really feeling the Crowley boogie of "Do What Thou Wilt", but the slow-burn balladeering of "Summerlands" is simply gorgeous, part Loreena McKennitt, part the sort of tune Wayne Hussey would've given his old hat to have written.
I've been enjoying Inkubus Sukkubus' records for more than fifteen years, and Love Poltergeist in fact marks their twenty-fifth anniversary. That they're releasing records at this clip while that long in the tooth is impressive; that they're still finding fresh venues for their muse while delivering solid songwriting is doubly so.