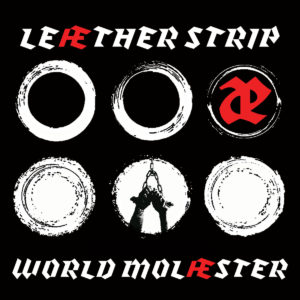 Leaether Strip
"World Molæster"
Læbel
One of the fascinating aspects of contemporary Leaether Strip is the degree to which Claus Larsen's legendary dark electro project reflects his wide-ranging taste and personal musical history. While never shy about his love of classic synthpop and new wave sounds, Claus' recent covers albums, revisited early demos and extant projects (like the smooth Am Tierpark with John Mirland) paint a more complete portrait of who he is as a creator. New album World Molæster is classic 'Strip, but keen eared listeners will be able to spot Larsen's influences and interests in the LP's composition.
At 17 tracks and 75 minutes, the record is certainly an expansive canvas for Larsen to work on different variations of his sound. Opener "Odium" acts as an overture, with high-impact drums, chunky synth riffs, samples and Claus' distinctive vocals recalling any number of classic numbers from the project's expansive catalogue. That shout-out to Leaether Strip's history sets the table for everything that follows, allowing for playful numbers like the playful oompah of the neue deutsch welle touched "Erdbeermund" or the tongue-in-cheek synthetic orchestration of "Harvest for the Rejects" to coexist with harder EBM-styled songs like "See You In Pain" and "Your Violence My Gasoline". They're different kinds of songs, but they all read as Leaether Strip.
You also get a goodly amount of the sincerity and personal narratives that mark much of the project's contemporary work. Some songs tackle internal struggles ("Anxiety", "My Body Cage") and life circumstances ("We Wouldn't Change a Single Day"), others take on global politics ("The Great Wide Closed", the title track), but like the stylistic excursions that mark the album they all feel like meaningful threads in the band's tapestry. Especially affecting is "The Sound of Sheffield" – a very literal tribute to The Human League – marrying a sound reminiscent of that band's early dark romantic period with a heartfelt vocal that outlines they and their contemporaries' impact on Larsen's life and musical development.
The sheer variety of World Molæster in terms of sound and subject matter is worth noting. That Claus Larsen, a man who has never been shy about trying new things musically, can do them all under the aegis of his main outlet is equally worth examining. Close to thirty years since the release of his first material Larsen has moved beyond so many of the genre tags that have been assigned him. Hard or soft, fast or slow, whatever he does, it sounds exactly like Leaether Strip. What else would you want it to sound like?