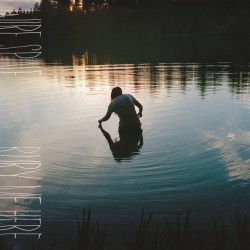 Wire Spine
Bury Me Here
Negative Gain Productions
The slow boil of Wire Spine's development as a live act prior to their first proper release can't help but shape my reception of Bury Me Here. Sure, there was a quick batch of demos (since withdrawn), but it's almost wholly via touring that Robert Katerwol and Jesi Tekahionwake built anticipation for this assemblage of murky synths and beats. That sense of anticipation oddly ports over to the music itself; while Wire Spine have certainly grown into a more focused and at times violent act since their earliest gigs, Bury Me Here is the work of a band who can get as much from holding back as they can from erupting.
Just about every song is punctuated by an instrumental interlude, and in this way Katerwol and Tekahionwake find an economic means of doling out the impact of their atmospheric but still punchy sound. The transition out of the deep, nautical ambiance of "Between The Sleep" frames the straightforward rhythmic unfolding of "Burn You". Zapton's steady repetition of that track's title feels more striking than had it left to follow up the fiercer squall of opening track "Soylent" on its own. Similarly, the glittering slime of "Silent Signals"' vocal distortion and synth-punk rhythm feels all the more grimy for leaping out between low drones.
The coarse palette of synth smears, blasts, and gurgles which Wire Spine share with Katerwol's initial project Weird Candle still holds sway on Bury Me Here, but it's now a stretch to keep thinking of Wire Spine as a Weird Candle side project. Yes, the synths are a tad icier and the drums held to mid-tempo, but the largest distinction lies in Tekahionwake's development as a vocalist and frontwoman. She's equally comfortable with a raspy bark as with a monotone croon (or eerie children's primer singsong on "Naomi"), and the blend of intensity and disaffection she's been able to convey onstage over the past year or so ports over clearly to record.
For all of its savvy construction and delivery, Bury Me Here retains all of the lo-fi charms of Wire Spine's live presentation. The odd corner being tidied up doesn't detract from the rough fun of the project, and the band's found a way to let each track shine without overproducing them. Bury Me Here well captures the energy of one of Vancouver's most important acts going right now, and puts their best foot forward to the rest of the world.