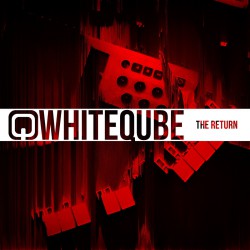 Whiteqube
The Return
Bractune Records
T Ryan Arnold and Jason Schary have always walked a fine line as Whiteqube, dipping from rubbery mutant electro into othe genres and back, slightly off-kilter but always on point. The Return is quite literally that and more: the LP is both their first new music since 2014, and additionally their first full length album. It acts as a showcase for some of the new ideas the band has been cooking up during their hiatus as well as a refresher on what caught our attention in the first place.
The biggest and most notable change is probably the addition of vocals to the project's sound. As major developments in the group's approach go it's a solid one, helping add hooks and dimension to the songs without having to subtract anything to make room. The album's title track is an expecially good example, sounding exactly like the Whiteqube tracks of the past – bouncy bassline, strong kicks and siren synths on the chorus – but with a few well placed shouts to help it pop. Commendably the actual lyrics are constructed with a theme in mind and aren't just a bunch of word salad; "We Are One" is a call for subcultural unity over a driving dance beat, "The Alarm" reveals a heretofore unheard political angle to the Whiteqube style.
There's also a techno flavour in certain tracks, albeit drawn from several different schools. "Connections" has a bit of a 90s Hardfloor in it's DNA, propelled by a lengthy vocal sample and a rock solid rhythm progression. They give hardcore a spin on "Open The Gates of Destruction" and "Headstrong Death March" goes full-on gabber, although both cuts make a point of twisting their arrangements up a little for variety. There's even a little classic rave action happening on the chirpy "Retroactive". Whiteqube have always been pretty catholic in the way they approach electronic music, but it's interesting to see them try their hand at several distinct styles on a per track basis.
We've often focused on the video element of Whiteqube's approach in the past (and for good reason, check out the video for the title track if you want to see the kind of effort the band put into their visuals), perhaps to the detriment of actually discussing their music. The Return is a good solution for that impulse, moving along at a fair clip and demanding attention with its frequent change-ups. If this is indeed the titular return of the project on an ongoing basis, it's definitely a welcome one.
.