Another weekend gone, another festival in the books! Yes, DB21 took over Los Angeles for three days of legendary artists sharing stages alongside some of the freshest up and comers our dark little corner of things has to offer. Alex was there to catch all of the highlights and happenings, and will be thoroughly debriefed on this week's episode of the podcast. Which acts stole the show? Who's nicer/taller/shorter/drunker in person? And who's crushing the vegan taco game in LA? We'll get to that all in due time, but for now let's get to this week's tracks!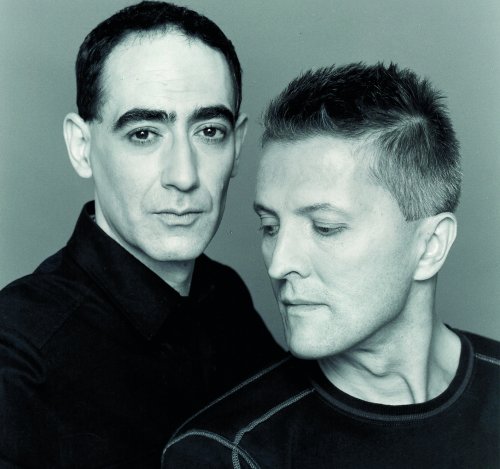 DAF, "Die Sprache Der Liebe"
Deutsch Amerikanische Freundschaft formed nearly forty years back, and Gabriel Delgado-López and Robert Görl are still alive and kicking. New number "Die Sprache Der Liebe" coincides with the release of new 5 LP/4 album boxset Das Ist Daf and it sounds pretty much like you would expect: a looping Korg MS-20 sequence, boxy, live sounding drums and Delgado shouting leather sex lyrics. Much as we love the group's mid-80s daliiances in italo disco, we certainly can't fault them for going classic DAF on this cut, delivering on the sound they pioneered and that inspired more than a few bands we can think of. Video is NSFW btw.

Alter Der Ruine, "Where Are The Bells?"
Our hearts were set all aflutter when there were shudders of activity in the Alter Der Ruine camp. A new release? A possible formal reunion? We were just as guilty of baseless speculation as anyone, but now we've got the goods in hand: Doom Soother is "the skeletal remains of what started as I Will Remember it all Differently" according to the Mikes and Tamara, and was recorded just previous to the band's end. So, no reunion but a whole swack of beautiful ADR jams in that achingly raw but also sentimentally sweet mode they hit upon in their last days, like this one.

Der Prosector, "Sun Dogs (2Bit Edit)"
Ged Denton, formerly of Crisis NTI but most noted for being one of the figures behind our beloved C-Tec, is back in the cut (no pun intended). Der Prosector's Egregious EP (including a nice blood-spatter pressing) brings Denton and company together in a storm of coldwave guitar and programming – making it right at home over at Armalyte Industries. We're digging the stripped down but still punchy and processed feel on this mix.

Hello Moth, "Take This Away (Nebula Version)"
It takes work to sound as idiosyncratic but also as carefree and confident as Calgary's Hello Moth. The vocalist/producer/songwriter (underlining each of those roles seems important but doesn't wholly circle the square when writing about Hello Moth) has a forthcoming EP of tracks which look to be based on the interstellar miasma of nebulae, including this sweet but also economical synthpop reworking of a single from earlier this year.

La Santé, "Brakuje Powietrza"
Poland by way of Sweden body music act La Santé certainly make an impression on this track from forthcoming LP for EK Product Pogansky. As neo-oldschool has died down in terms of volume, it seems like more interesting acts like this one are coming to the fore, taking the established template and inserting individual flavour, like the Neue Deutsche Welle elements that creep into this one as it rolls forward. That said, the band has a previous LP out on Electro Arc, which we'll have to look into before this one drops.

UCNX feat. Fourth Man, "Tastless Killing Spree (Chrome Corpse remix)"
So, long-running US industrial act managed to get The Fourth Man (aka David Collings, who sang on Numb's Blood Meridian) to bless their new EP with some guest vocals, which would normally be enough to get our attention. And then they went and got Chrome Corpse out of Seattle to remix the track, which is pretty much a guaranteed stand-up-and-take-notice from us. Well played UCNX. At any rate, the song itself is a good fit for all parties involved, lots of sharp edges, howled vocalizations and speedy sequences, all bathed in a light coating of acid corrosion for that wasteland feel.