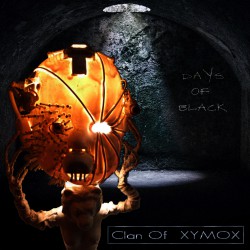 Clan Of Xymox
Days Of Black
Metropolis/Trisol
It's been a varied road for Ronny Moorings and company ever since the former reactivated the Clan Of Xymox moniker sans Anka Wolbert and Pieter Noonen some twenty years back. Unlike so many other 80s darkwavers, Moorings has never shied away from the goth fanbase which has clung to his work for nearly three decades. This has made CoX a refreshingly present and accessible act, but on the other has perhaps led to the group painting themselves into a corner with very little distinguishing their last six or seven LPs. The pre-release morsels of their sixteenth (if you include the Clan-less Xymox LPs) record nicely encapsulated this dichotomy. On the one hand, lead single "Loneliness" was immediately memorable, on the other, there was the album art which…let's just say it's not up to the snuff of their early releases which benefited from 23 Envelope's touch. While Days Of Black doesn't break from the path Clan Of Xymox has doggedly adhered to, it does feature a couple more high points than their most recent efforts.
It's no shock that like pretty much all CoX records from Farewell forward Days Of Black is a resolutely gloomy bit of business. That said, the theme of lamenting a lost or failing relationship crops up so frequently that the dour tone feels a bit more earned. Sonic parallels between CoX and The Cure, which to be honest I've never really heard despite the claims of numerous acquaintances, are actually quite apparent here. Moorings' slurred yelps on the chorus of "Loneliness" aren't too far off from Kiss Me-era Cure and neither is the guitar plucking on "I Couldn't Save You".
The production and general instrumentation of the record reflects the workman-like care in the studio Moorings has always given to Xymox. "Leave Me Be" and "Loud And Clear" are strident tunes with the forthright goth rock guitar sound the band nailed so well on 1997's Hidden Faces, and couple of synth-heavy tunes ("The Rain Will Wash Away" and "What Goes Around") break up the album's focus on guitars, though the latter does drag a bit. Stashed towards the end, "I Need To Be Alone" is a brash bit of business, the sort of thing I'd expect from a band with a couple of decades less road-wear than Xymox, or Ikon at the very least.
Moments like "I Need To Be Alone" and "Loneliness" show that there is still the odd moment of inspiration in Moorings' darkwave playbook, but I can't help but wonder if those are only going to be apparent to those who've stuck with Clan Of Xymox through thick and thin. If you're a lapsed fan who hasn't checked in for some time you could definitely do worse than Days Of Black, despite what the cover art might suggest. Really.