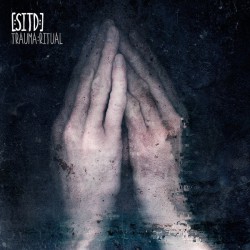 [:SITD:]
Trauma: Ritual
Scanner
Nearly fifteen years on from [:SITD:]'s proper debut, one knows more or less what to expect when the German act releases something new. They've been consistently releasing super-polished, club-friendly electro tunes delivered with seething vocals, and have honed their production to the point that it feels like we've been using our pet "widescreen EBM" phrase to describe them forever. The only question facing each record from the trio is the quality of the individual tracks. Thankfully, after two releases of unremarkable if not embarrassing material, [:SITD:] have put together a solid package of exactly the sort of tunes which first earned them acclaim.
Trauma: Ritual's tracks are immediate and straight-forward with kicks driving things forward for the most part, whether its in the form of a stomper like "Genesis" or the more icy "Elegie". Whatever the tempo or mood, though, what remains impressive is just how clearly thought out and arranged the individual sounds which are brought together in Trauma: Ritual's tunes, and half the fun of the record lies in being able to focus in on them. You don't even need that solid a pair of headphones to notice how the rubbery thump of the drums on "Mundlos" brings out the odd quaver in the sawtooth leads, or the light, graceful feel of the pads on the futurepop-heavy "Companion". These are the little things which [:SITD:] attend to better than nearly any of their peers, and Trauma: Ritual's a fine example of that attention to craft that they've always had.
This isn't to say that [:SITD:] aren't still making some subtle forms of progress. The synths on opener "Puls:Schlag" sound as though they might be taking just a slight influence from the ubiquity of synthwave. Structurally, the track's rhapsodic structure is a change-up as well, shifting from a minimal tick-tock of synths to a lusher tone and yielding the vocals to Dennis Schober of Solitary Experiments (certainly one of [:SITD:]'s closest musical neighbours). Closer "Zenit" makes some similar structural experimentation, moving through a range of moods and movements in just over eight minutes. Elsewhere, Gesaffelstein's cribbing from EBM is paid back with "Post-Factual Age", an instrumental (save from some Trump samples) very much in the vein of techno's current interest in Our Thing.
Trauma: Ritual is not a back to front burner and there are a couple of tracks which feel a bit indistinct in comparison to their fellows, but then again there aren't any real missteps, either. While listening to its high points, time and again I found myself remembering that there aren't really any other bands standing capable of pulling this particular style off so well. Without signalling a dramatic shift in direction it's brought [:SITD:] right back on course. Recommended.