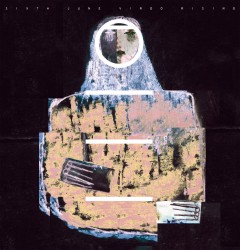 Sixth June
Virgo Rising
aufnahme + wiedergabe
We often talk about the importance of atmosphere in darkwave here at I Die: You Die. Often, though, we gloss over exactly what we mean by that term. Sustained pads? Vocal mixing? Guitar delay? Sure, all of those things can help to produce that intoxicating mix of intimacy and distance which darkwave often connotes. But Berlin (by way of Belgrade) duo Sixth June weave magic on their new record by underscoring the pop elements which have always been present in darkwave's DNA, but too often go overlooked.
The production on Virgo Rising's certainly a level above that of Sixth June's previous LPs and EPs, but it's not just in 'clean' sound that the record wins out. Check the nodding bounce and shuffle of "Call Me"; none of its pop immediacy is lost as Lidija Andonov and Laslo Antal drape the track's rhythms in Xymox-esque garb. Andonov and Antal describe Sixth June as "dark electropop", and if that term bears any substantive difference from "darkwave", surely it can be found in the canny programming of an instrumental like "Tatjana", which rides mid-tempo toms to the dancefloor.
Virgo Rising's appeal doesn't just lie in its pop savvy, though. The almost lullaby-like pace at which "Nebo" unfolds, and the coolly knowing vocal delivery Andronov lends to "Knife In The Water" offer plenty of goth thrills and nocturnal elegance. Alongside Andronov's stellar vocals, Virgo Rising's other secret weapon is, I kid you not, saxophone. And not panicked, skittering post-punk sax a-la Bauhaus or Theatre of Hate, but buttery-rich and smooth sax which wouldn't feel out of place in the bridges of innumerable AM radio hits from across the decades. Sax opens the album up melodically on lead track "Night Before", and segues with some prog-ish bass worthy of Japan on "My Joy". Delivered in just the right amount, it offers a thoughtful textural counterpoint to the programming and vocals.
Virgo Rising is a textbook example of atmospherics, to be certain, but its path to those cool and reflective moods is anything but. It would be easy to imagine another record with similar programming becoming rote if it was unable to divide the spotlight equally between vocals and instrumentation. It would be very easy to imagine another record botching the use of saxophone in such a delicate manner. But Sixth June's instincts for composition and instrumentation keep Virgo Rising from ever becoming generic or too ornamented. By the time a simple sax refrain loops through closer "Falling", it's more than apparent that not only do Sixth June know classic darkwave atmosphere intimately, they also know how to build and expand upon it with new sounds and textures, a far more impressive feat. Recommended.