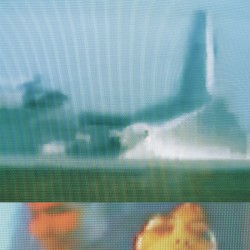 The blast of synthesized noise, distant vocal samples and feedback that kicks off Azar Swan's third album is a pretty solid indication of the path the American darkwave duo have taken since their debut. The popular perception of Zohra Atash and Joshua Strawn's work has usually been centered on their capacity for hooks, and indeed the best songs on their 2013 debut Dance Before the War and its 2014 follow-up And Blow Us a Kiss were the ones that married catchy melodies to fraught energy and Atash's powerful vocal delivery. Savage Exile is a different kind of record though, one that plucks the taut nerves that have always been directly below the surface of the band's material to great effect.
Even in its most digestible moments it's an LP that relies on tension and an anxious energy to make an impact. Single "Territorial" strips the idea of an Azar Swan song down to its base components, allowing Zohra's whispered voice and a tumbling arrangement of distant pads and clicky drums to coalesce into a hobbled, lurching rhythm – a powerful song because you can hear how it could have been more digestible in some other incarnation. That template holds true for opener "Shock" and the ghostly "You Can't Wash Away Murder" which sounds like a tropicalia record being played through a drainage pipe: corrode away the excess and leave the skeleton of the song intact to relay its shape and scope.
Interestingly that approach brings Azar Swan in line with some of classic post-industrial's minimalism. The power-electronics shouting on "Twilight Anesthesia" is contrasted with a warbling processed vocal from Atash as backed by a simple but insistent arrangement of bass and drums that recollects the Klinik, a comparison echoed in the seasick horns that adorn "Instinct". "Silent Like A Father" takes it even further into fever dream territory with off-key strings and vocals that constantly feel out of step with its grinding sequences. When the duo do allow themselves a moment of straightforward delivery on the club-ready "Jungle Law" it's still shot though with a streak of the ill-tempered, as Zohra delivers the chorus with a guttural snarl while gunshot snares go off behind her.
Even absent the context of what came before it Savage Exile comes across as a wounded animal of a record. Charged and queasy as it is, there's something inspiring in how it nakedly it presents anger and despair, processing an increasingly hostile political and social atmosphere through music. It's not an easy listen, but it is a stirring one, the best Azar Swan have offered yet. Recommended.