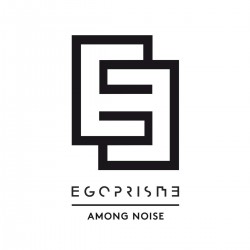 Egoprisme
Among Noise
Manic Depression Records
Darkwave seems to be having a bit of a surge at the outset of 2018, with bands new and old making their presence known. One act belonging to the emerging wave of artists is France's Egoprisme, the solo project of Jean-Marc Le Droff. The project's debut LP Among Noise finds a healthy balance between the genre's various stylistic modes, including full-on dancefloor stompers and post-punk flavoured offerings.
Despite being fifteen tracks long, Among Noise makes a real asset of brevity, honing in on mood and form on each song extremely quickly. The excellent "Call of Duty" establishes its programmed rhythm section right at the jump, allowing for an extended build towards its instantly memorable vocal hook, a complete journey in just a little over three minutes. Cheeky electro number "Fast Fashion" – while not an explicit reference to that band – jumps out of the gate with a snide lyrical turn from Le Droff, paired with a plucky bassline and chirping synths. Even when engaging in more sinister moods as on the bendy "À Tour de Rôle" the pace remains sprightly, with a simple two note synthline and a kick-snare laying the groundwork for creepy wood block sounds and a surprisingly thick chorus.
Despite the presence of guitar on many songs, Egoprisme's primary focus is electronics with the former instrument used to accent or add filigree to a song. The italo-esque "I Am the Sun" sets up a whole arrangement of keys, pads, and pianos with a simple chorused out guitar line added for seasoning once the shape of the track has already been established. Despite his obvious proficiency with the guitar Le Droff rarely pushes it to the front of his arrangements, allowing it to sit back in the mix on songs where it might have otherwise been the star, like on the emotional New Order-esque "The Dark One" or moody place-setter "En Secret" that opens the record.
In a recent interview with Russian webzine Rockult Le Droff noted that his creative process was equally focused on studio and live performance. That makes sense given the upbeat tempo of Among Noise, in spite of their largely programmed foundations these songs have a spontaneity that has the air of a club or concert hall. That certainly doesn't mean that they can't be enjoyed in your home on on your headphones, moreso that Egoprisme's compositions have a tangible life and energy that in turn lends them a distinct charms all their own.