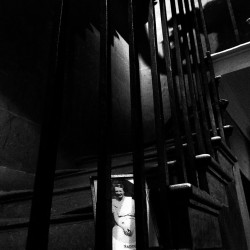 Double Echo
Ancient Youth
self-released
Liverpool's Double Echo have made a not inconsiderable number of shifts in their sound since starting up in 2012, but they've been relatively subtle ones. While staying firmly within the gothest of post-punk regions, they've steadily moved away from the dreamy, melodic sound of debut EP Black Morning. 2012's Phantomime and La Danza, released in the tail end of last year, found them navigating the bleaker shades of a far more sober and wintry style of goth. The new Ancient Youth EP feels more varied than its full-length predecessors in part for its brevity, but also for its forays into reckless abandon.
Opener "Rural" relies on a tension between the simple, melody of an isolated lead guitar and the stark and martial rhythms which envelop it. A brusque vocal which recalls In The Nursery's Humberstones does nothing to drive the cold away. The title track is of a far more unhinged and extravagant nature, though. Starting out like a manic outtake from the Seventeen Seconds sessions (there's a contradiction in and of itself), it quickly cyclones out into a synth-happy smear of chaos. "Entropy" is classic goth from the tail-end of the first wave, with beds of acoustic strumming, a storm of drum machine kicks, and a Mephisto Walz style lead. The vocals of Ellon Souter (who came on board for La Danza) are something of a secret weapon on this cut, sitting far further in the back of the mix than those of core members Ash Lerczak or Chris Luna, but also for their nuanced counterpoint to the amount of aggression Double Echo are pouring out. "Haunted Dreams" returns to "Ancient Youth"'s punchy careening before things simmer down with the tight bass and windy reflection of "Fiction".
Upon learning that Ash Lerczak was none other than Doc Horror of Zombina and the Skeletones, I theorized that records like La Danza may have been influenced by a desire to get as far away from the kitschy side of goth aesthetics. Ancient Youth is still miles away from camp phantasmagoria, but it's a good reminder of how much power there can be in goth rock which goes for the jugular without stopping off at the theater first.