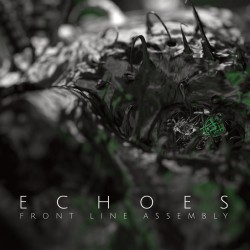 Front Line Assembly
Echoes
Metropolis Records
The success of Front Line Assembly's excellent 2013 album Echogenetic was largely attributable to effective use of modern electronic music ideas, and their integration with classic FLA tropes. An extension of that concept is promising enough as an idea: allowing a variety of remixers to pick up the various strands of genre, sound design and production that informed the record, and then carry them through to new places.
Of course the strength of that plan is in the selection of remixers, and above all else it's in the curation of Echoes that Bill Leeb and the Front Line camp have shown how forward thinking they are. The LP has without a doubt one of the most head-turning collections of artists seen for a project like this in years, going well beyond the bog-standard "labelmates and hired guns" remix album model and tapping into some of the more interesting artists in the orbit of present-day industrial.
The characteristic depth and lushness of Echogenetic is well served by a number of the mixes on Echoes. Video game music production house Sonic Mayhem (of Quake II and Mass Effect III fame) inject "Leveled" with strings and sustained chords that amp up the drama, bringing the track in line with FLA's own recent soundtrack effort Airmech. Similarly, the instrumental "Prototype" is thoughtfully recast by Ben Lukas Boysen of HECQ into a massive cybernetic overture. The considered and ever-changing arrangement of drums, sound effects and programmed squelches are allowed to bounce off one another in the stereo spectrum, with the song taking on forms inverse in size and shape to the spareness of each element.
Conversely, some excellent moments come from complete reinvention. Blush Response and Comaduster delve deep into their individual own production milieus (modular synth workouts for the former, emotive shoegaze and bass glitch wizardry for the latter) for their tracks, while Youth Code invoke earlier incarnations of Front Line with their rigidly sequenced take on Echogenetic's title track, all tightly programmed bass and bitcrushed kicks and snares that bash their way through the mix to sit out front with Leeb's vocals. It's an exercise in classic electro-industrial aesthetics that is especially effective when placed next to ex-FLA member Rhys Fulber's ultra-modern EDM reinvention of club-stomper "Killing Grounds", the legacy and present of Front Line Assembly existing comfortably side by side.
A large portion of Echoes is spent exploring the personalities of its various remixers (like the characteristic work of Necro Facility's Henrik Backstrom and Daniel Myer representing as both his solo-project Liebknecht and as part of Haujobb with Dejan Samardzic), but it's not without some hints at the future of Front Line. The brand new tracks "Contagion" and "Next War" written with Sneaker Pimps lyricist Ian Pickering suggest a more song-oriented ends for Front Line's current style of production, a hint reinforced by the carefully arranged Hijacker mix of "Exo" by FLA's own Jeremy Inkel and collaborator Sasha Keevill, two of the architects of Echogenetic's distinctive sound. A remix record might seem a strange place to find these sorts of clues, but in the context of Echoes it adds to a global view of Bill Leeb and company's current status. As a remix record, it gives us a broader view of where Front Line is, what went into getting them here, and quite possibly where they're going.