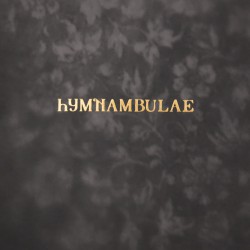 Hymnambulae
Orgelhuset
Hypnagoga Press
Pär Boström has been on quite the tear of late. I was introduced to his dark ambient project Kammarheit right when the project was entering a long period of torpor. The Starwheel had been an undisputed masterpiece of the genre, and it would be ten years before its follow-up, The Nest, would see the light of day. But in the months leading up to that Boström made up for lost time, releasing a collaboration with Apocryphos and Atrium Carceri, and digging out no less than six discs worth of material for an archival release. His productive run of 2015 has evidently carried over into the new year, as he and his sister Åsa have just released a full LP under the brand new Hymnambulae moniker, which is of a very different cast than Kammarheit.
One's natural impulse is, of course, to read Hymnambulae's arrival against Boström's extant releases. The individual elements of Orgelhuset aren't perhaps so different from those used in his previous work, but their context and application radically changes their effect. The bed of reedy flickerings which makes up the framework of "Ett Ord Från Öknen" could, perhaps, have cropped up in one of the strange, insular pieces on The Nest, but the slow, mournful flute which guides the listener through the track like Ariadne's thread connotes a time and space very different from Kammarheit's astral topography. And more than anything, it's the space and mood conjured by Orgelhuset which not only distinguishes it from Kammarheit, but gives it its own strengths and character.
Whether actually containing field recordings as we commonly understand the term or not, the hushed crackle and close, lo-fi miking of Orgelhuset's spoken passages gives the sense of a very old story, perhaps the story of a land rather than a person, being unearthed after decades of neglect. If I'm correct in assuming that these are Åsa Boström's work, she has a preternatural way of finding a tone for her delivery which integrates completely with the drones and tundra-like textures she's surrounded by on the record. But again, the vocals feel as though they've been recouped or salvaged from some larger and lost context which we never fully see, and are only catching glimpses of.
Orgelhuset will certainly appeal to Kammarheit fans interested in the addition of a second Boström to the mix, or just in what's written on the page after The Nest. But I also think that it has much to offer folks who don't normally trade in dark ambient per se. Like Steve Roach's less space-heavy releases, or the earthy ambiance of some of David Sylvian's more minimal work, Orgelhuset sketches out terrains both familiar and uncanny, but which are made to feel all the more real and weighty for their mystery. Highly recommended.