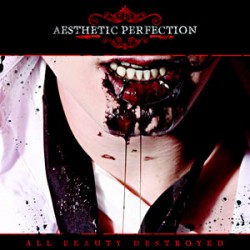 Aesthetic Perfection
All Beauty Destroyed
Metropolis/Out Of Line, 2011
To be honest, even after I'd given the new Aesthetic Perfection CD a few spins I had no idea that it had already proven to be so contentious. Y'know those opening scenes in recent zombie flicks in which we zoom out from the protagonist's initial tussle with the undead to reveal the scope of the rotting apocalypse waiting just outside her door? That's kind of how I felt when I realised how heavily popular opinion was split on All Beauty Destroyed. Was the new Aesthetic Perfection in fact a complete selling out of everything Daniel Graves "stood for"? Of course not, and what sort of bullshit leading question is that? More importantly, was it any good? Well, yeah, more or less, and here's the deal…
In some senses, All Beauty Destroyed is a study in extremes. On one hand there are the vocals: they're clean, but louder and more unrestrained than anything we've ever heard from Graves. On the other, there are the chiming, melodic synths which are sprinkled liberally throughout Beauty ("Inhuman", "Hit The Streets"), providing a nice counterpoint to the growling vocals and adding some levity to the affair, as does the theremin-style lead on "The 11th Hour". I know that some people have suggested that some of the sounds explored by Graves on his now on-hold Necessary Response project have crossed over into Aesthetic Perfection, which which would nicely account for these melodic accents, but to my ears they're a new tool in Daniel's arsenal. Both of these trends – the aggressive vocals and up-front melodies – make for a far more direct and no-frills incarnation of Aesthetic Perfection.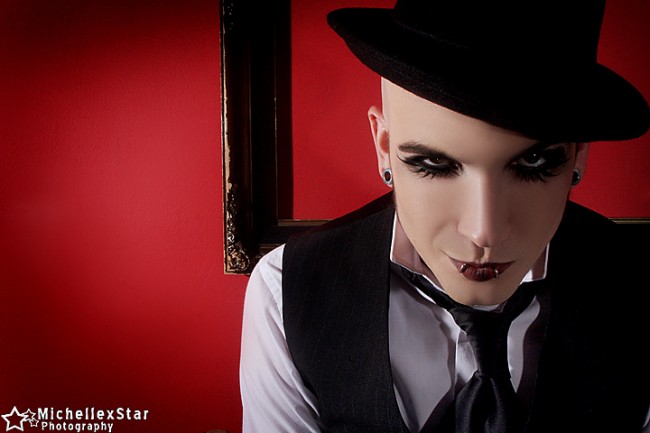 Despite this forthrightness, All Beauty Destroyed offers a pretty wide variety of styles and moods when it comes to the songs themselves. "A Nice Place To Visit" opens with slamming violence, and "The 11th Hour" is a solid brooding and building cut. "Hit The Streets", a fun little ode to nightlife which rides a groove not unlike Goldfrapp's "Ooh La La", would be a great bid for crossover appeal were it not for Graves' gravelly yelps about getting shittered, which'll likely shatter the car commercial licensing the track could've otherwise enjoyed. Upon its release as a single I liked "Inhuman" well enough, I suppose, but it's grown on me since listening to it as the centerpiece of Beauty. If there's one concession to Necessary Response's influence on this record it's "Inhuman"'s combination of wrenching pathos and impeccable club flourish, though you could argue that "Inhuman" sits just as close to AP's "Pale" (my personal favourite from A Violent Emotion) in that regard. Either way, it's a fantastic song which ranks alongside whatever other highlights one would care to name from Graves' back catalog.
Things trail off at the beginning of second half with some aggressive tracks which blend together a tad too much ("Filthy Design" is a bit thin, as is "Motherfucker"), but the LP ends well with three nicely varied tracks: the vocal percussion foundation (no, really) of "Under Your Skin", "The Little Death"'s slow grind and the sparse closing title cut. (The bonus remixes are the usual mixed bag: I'm far less irritated by the [X]-Rx mix than I'd anticipated, XP8 and Caustic's mixes are great, Extinction Front's brostep excursion is abominable)
Giving All Beauty Destroyed grief because it "doesn't sound like Aesthetic Perfection" is plainly idiotic given that it's only the third AP LP and that Beauty cleaves far closer to the sound of A Violent Emotion than that record did to the sound of its predecessor, Close To Human. Misguided as they are, I think these complaints can be taken as a byproduct of Graves' well-earned success in the three years since A Violent Emotion's release. The ID:UD staff caught AP as the curtain-jerking act on 2008's [:SITD:] and Imperative Reaction tour. We were aware of the project only as "the guy from Necessary Response's other thing" and had no real expectations. Within two minutes of Graves bounding on stage that rainy September night, though, it was apparent: the dude had "it" and was going to be huge. I barely need to recount what's happened since then: AP's position as one of the top bands in this thing of ours has been established and consolidated through relentless touring of a fantastic record (and Graves' application of his signature swing to his heavy remix schedule). Graves made it so easy to like and even love A Violent Emotion that perhaps some of the less laterally thinking folks in his audience are having a hard time listening to anything else. That's their fault and their loss, though: All Beauty Destroyed holds its own, and showcases one of dark electro's brightest lights moving forward at a pace dictated by no one but himself.