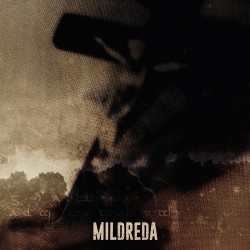 Mildreda
Coward Philosophy
Alfa-Matrix
Before Jan Dewulf founded his multi-disciplinary industrial project diskonnekted around the turn of the millenium, he made dark electro under the name Mildreda. After a one-off live revival of the project in 2009, Dewulf elected to record some new songs with the project, which have now been compiled with material from the original run and released as Coward Philosophy. Fans of diskonnekted's omnivorous approach to genre will find the same impulses reflected in the tracks on the LP; where the latter project integrates synthpop, alternative rock and breaks (amongst many other styles) into a melodic industrial milieu, Mildreda invokes the approach of Placebo Effect, Mentallo & The Fixer, The Klinik, and others in its dark electro compositions.
For many scene heads, the highlight of Coward Philosophy will likely be the inclusion of Mildreda's De Laffe Denker cassette, originally released in 1996. Remastered but still possessed of a gritty energy, there's a bracing quality to the songs that belies their 20 year vintage. Some songs like "The Begetting" and "Jesus' Daily Death" evoke the orchestral samples and portentous bells of cult-Canadian act Will, while others like "Religion" and "Laughing" go for a more straightforward harsh sound of the pre-aggrotech variety. There's even some of the genre's oft-forgotten offbeat weirdness on display in the form of "Soldiers", where a detuned string loop provides an elastic rhythmic counterpoint to militaristic drums. What the songs all have in common is a remarkably accomplished sense of atmosphere, which bind them closely together in spite of stylistic variation. It's amazing that Dewulf was this accomplished as a producer this early in his career, and certainly points to the studio chops apparent in his catalogue since.
Oddly, in spite of a very obvious upgrade in toolset and skills, the newer songs on Coward Philosophy feel less fulfilling. Perhaps it's that they're cleaner sounding, or more melodic, but a lot of the charm that marks the earlier tracks feels absent. See the newer version of "Fire" for example – despite sporting a slick, modernized sound with some very tight programming, it just doesn't have the gravelly muscle and audio silt in the mix that makes the original a standout. It's a recurring theme in listening to the post-2000 songs, despite being professional to the number and possessed of many of the same style cues, they feel less revelatory, less forceful. This is of course an issue of comparison, and more than a few songs make a mark of their own, especially the first three "Aborted", "Erazor", and "This Time" which all make a solid impact on the listener. In a vacuum they would be interesting and occasionally quite entertaining updates to the 90s dark electro pads-n-beats template, but it's their predecessors that are most compulsively relistenable.
Given that, and that Coward Philosophy is only available in a digital format including all 33 vintage and modern tracks, maybe it's simply a matter of reframing the release a little. Taken as a cool reissue with a top notch remastering job that also has a whole new album to boot, it's quite a value. If this signals the return of Mildreda as a going concern, you probably couldn't ask for a much better way to bring the project back to the public eye.