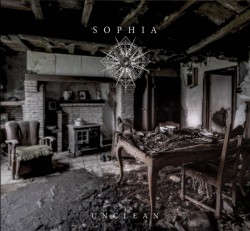 Sophia
Unclean
Cyclic Law
The brand of ambient industrial plied by Peter Bjärgö of neo-classical ensemble Arcana when he's working under his Sophia sobriquet is a tricky beast. Relying on both martial rhythms and submerged samples and pads, it can be at turns rigid and at others utterly disorienting. Acts like In Slaughter Natives and Deutsch Nepal have been frolicking in this liminal state for years, but the thematics and tone of the first new Sophia material in a decade further complicate matters.
There's an oddly quiet and restrained tone to much of Unclean. The album art, depicting a bombed out and depleted living room, points to a much more insular and possibly even domestic mood than that of the metaphysical and militarily minded work Sophia's done in the past. Titles like "The Drunk" and "Wardrobe" also hint at the same, and that shift in focus is borne out by much of the record. Despite the title track opening with the bombast one expects from the project, much of Unclean stays hidden in shadow. "Quiet Darkness" and "Greed Grin" slide by without much effect, and it's not until eight tracks in that some of the dynamism of Arcana and earlier Sophia arrives. Shearing metal and swooping horns circle each other to excellent effect on "Steel Cathedral". It's a fantastic tour de force but only brings forward how much seems to have been kept in reserve until then.
Despite clocking in at less than forty minutes, Unclean feels like a much longer record. Whether one wants to credit that to an unremitting commitment to its sound or a tendency towards repetition may sound like rhetorical hair-splitting, but I feel it's that distinction which will determine your reaction to Unclean. If the particular brand of ambiance and percussion Sophia works with interests you enough that an experiment with a more sterile incarnation of it intrigues you, then the record should be a welcome change from a more de rigeur ambient industrial record. Personally, though, I needed just a bit more upon which to hang my hat in this forlorn apartment.