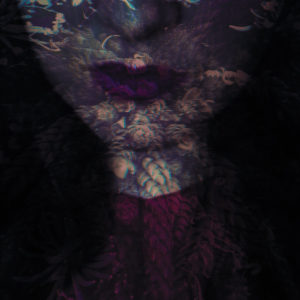 Hante.
Fierce
Metropolis Records/Synth Religion
The appeal of Hélène de Thoury's work as Hante. isn't hard to twig. The sound of her first three LPs was situated in the sweet spot (or grey area perhaps) between coldwave and darkwave; cool, european and poised, but delivered with enthusiasm and emotion to keep it relatable. Fourth album Fierce, her first for the US' Metropolis Records, doesn't stray far from that formula, but also shows off some of de Thoury's best work as a producer to date, reinforcing her melancholic compositions with nice, clean studiocraft.
Unified by mood, the record's 11 tracks (supplemented by two bonus numbers on the CD and digital version) paint the portrait of Hélène de Thoury as tragic figure, constantly reconciling herself to some unnamed ennui. It's a bit arch and dramatic, but that's kind of the appeal: a song like "Waiting for a Hurricane" is sold by how fully she commits to the mournful melody, over a bed of tasteful arpeggiation, stringy pads, and a simple 8th note bassline. It's a mode she makes sound effortless and acts as something of a template for Fierce's best numbers; adding in some steely resolve and a slight bump in tempo to make the addictive "Wild Animal" or slowing it down to a near dirge that barely hints at hope on "Silence the Voices".
With her persona well and truly established throughout, the album possesses some nice collaborative moments to add variety. Foremost is "Nobody's Watching", where guests Marble Slave and Fragrance. add contrasting male vocals to what ends up being one of the brighter (if still elegiac) and synthpoppier numbers. "The Moon Song", which features Box von Düe of Box and the Twins has a pleasing dark cabaret angle, albeit one braced with notes of contempt. Sólveig Matthildur's contribution to "Unknown" is one of the most striking moments on the whole LP, a Nico-by-way-of Lebanon Hanover deal that underlines Hante.'s connection as a project to the continental synth acts of yesteryear.
While it could use a bit more variety in instrumentation – some late album cuts that are otherwise lovely like "Never Over" suffer a bit from the use of a samey palette of sounds – Fierce is perhaps the most approachable Hante. has been. Both for her own distinctive character, and the ability to convey it, even when sharing or ceding the spotlight to others, it shows an artist who has a full grasp of who they are, and how to best deliver themselves to the world.