Fractured Transmission
Valley Electronics vol. 1
DTH X CMP
Nick Viola's Fractured Transmission are a project we associate with rhythmic noise, although with the release of his new EP that descriptor is feeling less and less accurate. When last we heard from the Los Angeles based project as part of DTH X CMP roster collab EP Simple Heresy (made in association with frequent collaborator Hex Wolves and The Yage) Viola was exploring the dark ambient and ritual aspects of his work, and in a sense Valley Electronics vol. 1 continues in that vein. The difference being that this is almost purely a proper noise release. Freed from rhythmic formalism, tracks like "Skin Walker part 1" – a track that sounds like an overdriven bass guitar being smashed to pieces in slow motion – and the burbling, disintegrating "Look Through a Feral Eye" show off Viola's sound design sensibility, and his capacity to build crushed and shredded soundscapes that engage the ear rather than punish it. The ringing static and fluttering white noise of "The Glass Tempest" has a painterly abstraction to it, structures and shapes summoned through arrangement that suggest broader musical ideas without directly referencing them. With the final track "Bury Me In Salt So My Wounds Never Heal", Viola filters and processes his waves of noise until they melt down into pure ambiance, a fitting end to a release that feels like a meditation on texture and the grain of its components.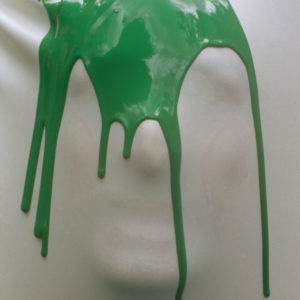 Oil Thief
The Colony
Chondritic Sound
Oil Thief producer Lee Landey arrived in 2015 with an intriguing blend of noisy beats and fuzzy washes of distortion, all smoothed out with some shoegaze-ish ambiance. After a spate of singles he's back with a mini-LP which splits up some of those sounds into individual case studies, often bringing them into extreme focus. The grinding, rhythmic noise (but not, y'know, rhythmic noise) which forms the base of lead track "Suzanne Takes Your Hand" drops away abruptly, only to rise again out of foreboding, low harmonic soup while "Illustrated Tourniquet" keeps the beats at heel. After that pair of beat-heavy numbers things grow more outre with the combo of field sampling, squiggling sine waves and creaks on "Hamburg" and "Cologne". It's actually odd how many pairs and trios of tracks sound like grouped tracks from collated singles rather than parts of a single release, but if nothing else The Colony keeps the listener on their toes. Still, a warm but unyielding mix full of rich and wide pads and chimes fills out the tracks well, be they overtly noisy or more sedate (having a sonic wunderkind like Josh Eustis mastering things certainly can't hurt the sound design). Good stuff which wins out via both pure experimentation and inviting and enveloping tunes.