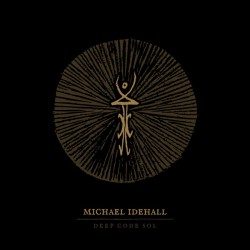 Michael Idehall
Deep Code Sol
Ant Zen
Deep Code Sol is actually an amalgamation of two previous cassette releases by Michael Idehall, 2014's Deep Code and 2012's Sol. The music on the collection reflects the aesthetics of tape-only power electronics and experimental synth, although there's something specifically different in the way that Idehall's compositions are realized. For all their grit and grind, there's a definite sense of space at play. While so much noise based music relies on claustrophobia and contained violence to make an impact, these songs feel like they're emerging from hermetic spaces into a much larger world of sound.
The records' most outstanding numbers are concentrated in the Deep Code portion of the proceedings, specifically the ones where Idehall provides deep, half-sung vocals with something of a neo-folk bent. "Feline" is barely more than a distorted synth loop with deeply intoned lyrics, but the affect is hypnotic and arresting, especially in the way that Idehall's voices always seems to be just barely breaking the track's surface, always in danger of being dragged back under. "Lucifer" operates similarly but makes good use of clanking and trilling percussion to impart structure and signal changes in mood and direction. Occasionally touching on more traditional rhythmic noise ("Slow Spiral") and drone ("Beast Mask"), the first eight tracks of the release have a deep replayability.
The Sol portion of the record is less compulsively listenable, although its major flaw is really only in not being quite as good as its counterpart on the collection. The production is a bit less full and distinct as it is on the Sol songs, "Seantronique" and "Serpent Wand" feel like good proofs of concept for the vocal n' noise style that Idehall would perfect in short order. "Snake Messiah" proves to be the biggest standout, riding out on an almost imperceptible shuffle of percussion and a some very fraught tones bouncing off of an endlessly repeated mantra; "There is a black man coming to meet me". Like the best of the tracks on Deep Code Sol it reflects both a deep intensity and the suggestion of release, as though its creator is steadily pushing them outwards, patient and unrelenting.