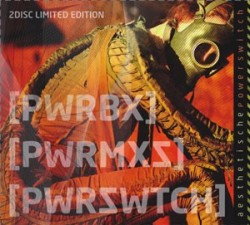 Aesthetische
Powerswitch
Alfa Matrix
The definition of "cult band" is pretty loose when applied within the confines of Our Thing. When the vast majority of the artists making the music in your genre could respectfully be qualified as obscure, what makes one electro-industrial artist any more cult than another? In the case of Aghast View, it's definable by their following: despite never having been a major club act the Brazilian quartet attracted a following for their contorted, complex brand of electro-industrial. After an eight year absence, Fab Viscardi and Gui Pires of AG have returned to the fold with a new project Aesthetische, whose debut album Powerswitch is being marketed in one, two and three disc versions, as is the style of their label Alfa Matrix.
Interestingly (and truth be told somewhat frustratingly), rather than stacking the proper album – that is the one being marketed as a single CD LP – with all of the best songs, much of the really good material is spread evenly across all the discs. In effect that means that to get the most out of what Aesthetische have to offer, you'll be wading through a morass of remixes, alternate versions, b-sides and edits. If those latter cuts were simple addenda it'd be a far easier proposition, but in many cases the alternate is in fact better than the "album version", necessitating either a selective bit of playlist generation or a massive block of listening time to really get a better than okay listening experience.
Ostensibly an EBM album, Powerswitch starts as such but it isn't long before various electro-industrial grafts make their presence known. Sure, opener "Brenbarr!" and album-cut "Punch!" have the bass and drums of body music, but they're full of electro style programming and production touches, rapidly sequenced keys and vocal processes emerging from the mix to lend a bit of complexity to the arrangements. And hey, those songs are pretty good, although I think I prefer it when Aesthetische go full-bore on the FLA-esque Less But More and the more melodic Korrupticide. If the core album is all I had to process for the purposes of this review, I'd wrap it up in the next paragraph with some mild praise for the variety of sounds and approaches it touches on.
But here's the thing: almost every song of the "canonical" LP is also presented in a host of alternate versions, many of them remixes in various styles by Aesthetische themselves. And a lot of them are quite enjoyable; I particularly like the dreamy, sweeping quality of the "Cold Glass" version of "Touch the Glass" and the tribal hybrid sound of the "Roots remix" of "Tripoli", so much so that I'd be remiss in not recognizing them as part of the package. And that's before we get to absolute club bombs like the buzzy remix of "Still Life" and the fantastic techy instrumental "Heaven Anticipates No Future", both of which don't appear 'til the third disc.
Maybe I'm not being ultra-clear why this is a problem for me from a critical standpoint, so let me try to sum the issue up: There's a fairly good record to be gleaned from Powerswitch's three and a half hours, but it took me at least 4 full listens through to divine it. That's a more than 12 hour buy-in, and I'm not 100% sure that if I hadn't been motivated with a self-imposed review deadline that I would have been motivated to sit through it in its entirety. It's simply too much to process casually, and while it'd be easy to just recommend going with the single disc version, when so many of the notable and engaging tracks are contained on the second and third sides it'd be a disservice to Aesthetische for me to suggest doing so.
So we really have two options, either an alright single (or double, although if you're gonna go two-disc you might as well go whole hog) record or a daunting triple album monolith that suffers dilution from sheer size. Neither is as appealing to me as the thought of a custom playlist combining all of Powerswitch's best songs into maybe a 60 minute all-killer runtime. And hey, I have that option, and I suppose there's a case to be made that it's almost an anticipated mode of musical consumption in the iTunes era. I'm willing to entertain the idea that I'm completely alone in this and that what everyone else wants is to carve the album from the raw granite block Aesthetische have provided. I'm still enough of a record nerd (or pedant if you're uncharitable) though that I enjoy it when I feel as though I'm consuming the record the artist intended to make more than the Frankenstein version I cocked together on my own. Powerswitch ain't bad, and in spots I think it's actually quite good, but how much you get out of it is likely how much you're willing to put into it, and that will undoubtedly serve as a barrier to entry for many of those who aren't already counted amongst Viscardi and Pires' followers.
Aesthetische – Less But More from Wandeclayt on Vimeo.