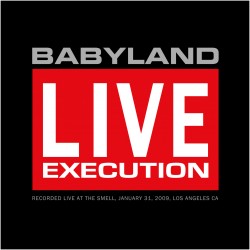 Babyland
Live Execution
Mattress
It's rough being a Babyland fan who never got to see them live. Moreso than anything else, the "electronic junk punk" that made the band so beloved was defined by playing shows, especially their legendary concerts at Los Angeles' The Smell, Berkeley's 924 Gilman Street, and various other California venues more noted for hardcore shows than electronic music. That reversal isn't a coincidence; Babyland's primary strength lay in bringing the energy of punk to synth music, their lo-fi samples, clanging live metallic percussion and impassioned vocals obliterating the barricades that segregate genre by virtue of the instruments being played. Doubters need not look far for evidence to support that assertion, a quick perusal of Youtube yields any number of clips of their storied performances, complete with frenzied moshing, dancing, and singing from the crowd.
Hard to believe then that Live Execution is the first official document of Dan Gatto and Michael Smith's celebrated performances to see release, and more than three years after their dissolution to boot. Recorded just prior to the release of their sixth album Cavecraft, the frenetic and emotional set has only just surfaced in a cleaned up format, first on Mixcloud and now as a pay-what-you-want download on Bandcamp. As live recordings go it walks the line just so: there's enough grit and crowd noise to separate it from the albums we know so well, but it doesn't ever feel removed from the moment it was recorded, the energy and effort conveyed with each strike of an oil drum and Dan's increasingly hoarse and ragged voice on climactic renditions of "Gehry" and "You Will Never Have It".
Unsurprisingly considering the circumstances, the setlist leans fairly heavily on latter catalogue (fully two thirds of the songs hail from The Finger and Cavecraft) and that seems fully appropriate; late-period Babyland was all about triumphantly rising above the everyday challenges that would hold us all back, and that sense of self-reliance and commitment comes across incredibly well on Live Execution. The classics included all have the expected piss and vinegar, particularly "Youth Choker", "Mindfuck", and "Worst Case Scenario" but it's the melancholy of "Rimer Tiger Drive" and "Last Ave" that makes them feel alive and vital. My colleague Bruce is fond of saying that Babyland is music that makes you feel like you need to do something, either with yourself or for someone else, and I think that's evident on the stirring closer "Search and Rescue", the yearning for things to be better fully transferred from artist to audience in a shower of sparks and sequenced synthesizers.
Smith and Gatto made involved music, both in the sense that it draws you in but also that it was emotionally complex, not about giving easy answers but encouraging us to find solutions of our own. While this site's appreciation for Gatto's new material as Continues is well documented, ID:UD's love for Babyland runs deep, and the opportunity to revisit them in their most celebrated context is most welcome. Speaking as one of those unfortunates who never had the chance to experience them firsthand it's also somewhat bittersweet, serving to reaffirm what I've always been told about just how fucking good they were, while driving home exactly what I missed out on. Still, it's as close as I'm likely to get, and in that it has tremendous value as a historical document of one of Our Thing's truly important acts. Furthermore at a time when Los Angeles seems poised to tear apart industrial with a new wave of DIY acts, it's a look back at the band that presaged it all, that did it their own way, and that mattered, always and forever.