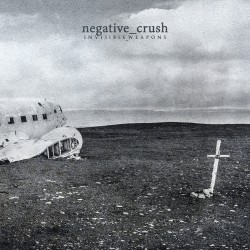 negative_crush
invisible_weapons
Grey Sky Recordings
Tyler Newman's certainly kept his hand in the game. While his best known projects, Battery Cage and Informatik, have maintained low profiles over the past half decade or so, with just the odd album and track surfacing, he's been dropping snappy movie soundtracks, doing 'futures past' type electronics, both unearthing and penning new music in his A.E.C. side-project, and plenty more via his Solid Grey Sky Recordings label. But the debut record from his new solo project, negative_crush, feels like an entirely new achievement for Newman, wholly separate from both his established projects and his more recent ones.
The album art, a grim memorial horizon at an aircrash site, gives honest warning of what's to come. Weary and resigned throughout, invisible_weapons' mood is well suited for the post-metal instrumentation and emphasis on slow tempos and dynamic shifts which run through its lengthy course. Bridging at times into industrial rock in the broadest sense, invisible_weapons makes good use of drum programming and keyboards when they're called for, but it's the guitars which generally stay in the spotlight. Fuzzy guitars, chugging guitars, guitars that evaporate, guitars which thud to the ground and then drag themselves underneath the bed to await brighter days. Jesu is cited as an influence in the PR copy, and for once I agree; Newman's learned well from the deep resonances and aching compositions which seem to reverberate in the chest pioneered by Justin Broadrick.
But to say that it's entirely beholden to guitar and impenetrable walls of noise would be to overwrite the swirling piano and percussion of the close of "Too Many Of Us Are Dying", and to ignore the excellent vocal work Newman delivers throughout the record. At times harmonizing with established guitars, and at times fully taking the melodic reins, Newman's rarely let so much of an album rest on his vocal performance, and certainly never for such a sustained period. "Your Secret Is Safe With Me" (along with a couple of other tunes) crashes back in for a reworked reprise after what seems like a natural conclusion, and with just a couple of minor intonations amplifies its recitation of stifled (but not entirely snuffed out) hope to fantastic heights.
The songwriting here is, bluntly, excellent. That's something which could easily be lost in the course of a record this lengthy with cuts that regularly push past the six minute mark and cleave so close to a particular mood. invisible_weapons is a bleak and dark listen, make no mistake. It takes depression, repetition, and self-destructive thinking as its themes. But rather than stabbing at the listener with violent, screaming directness, Newman's found a new voice, a new angle on his music in waves of reflection and resignation. An ache in the neck or legs which can't be stretched out or rubbed away, that's far more invisible_weapons' speed than the bloody stabbings of A.E.C. An exciting and affecting new direction for a long-standing industrial musician, invisible_weapons might have less in common with any of his earlier work than anything Newman's tried his hand at, but that only makes its success more impressive. Recommended.