Hey, friends and wellwishers. If'n you didn't check out the podcast last week, the Great Debate went down in fine form, with both senior staff members giving no quarter in what can only be described as a slobberknocker. What was the topic? Well you'll have to listen to find out, but here's a link to a playlist that'll give it away if you're not picky about spoilers. Also, keep in mind that our first official t-shirts emblazoned with the slogan "DEATH TO FALSE EBM" are still available to order at Teespring. We may never do another run of this design, so make sure to order what is sure to be a collectors item with an incredibly high resale value. That's it, on to new music!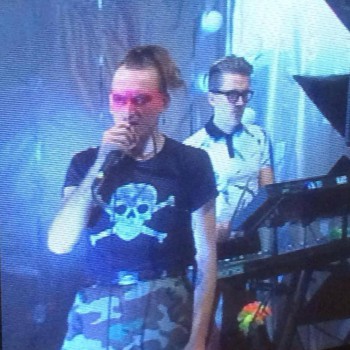 iVardensphere, "Stygian (Seeming Remix)"
We played this remix by Seeming on the podcast last week, but it's just weird and neat enough to demand a Tracks inclusion as well. The harsh rhythmic original is blown apart and reassembled as an electronic blues number with Jamie Blacker's vocals taking on a whole new dimension. And that's before you even get to the harmonica solo. Yeah, on an iVardensphere track. A meeting of two of our favourites (and coincidentally two artists who will be at Terminus this year) with a wholly unexpected and completely amazing result.

Soviet, "Overrated (BITES Remix)"
Well, here's a pairing we couldn't have foreseen in a year of Mondays. The new Soviet record is a coy and cozy take on classic synthpop. Xavier Swafford's steez as BITES is…not that. The 3 Teeth wizard brings his characteristically slamming take on classic EBM punishment to "Overrated".

Human Traffic, "My Body Is A Mechanism"
Kansas City nu-kidz Human Traffic are omnivorous bastards. Yeah, we can spot bits of recent stuff like Bruxa and 3 Teeth in this swirling chaos which feels like the musical equivalent of that old "will this phone blend" footage, but there are plenty of pointers back to the likes of ATR in this thudding cacophony. We're very curious to see what they bring to the stage when they kick off the second night of Cold Waves.

High-Functioning Flesh, "Hunger Cries"
LA's High-Functioning Flesh are doing something a little different with their new track. While the influence of classic EBM is still there, the new stuff (like this song and the excellent "Confuse the Call" from DKA's Strategies Against the Body compilation) seems to be drawing more on the broader sound of 80s post-industrial, with a healthy dose of mid-period Cabs and maybe a little Severed Heads to boot. We're super into these guys and are hotly anticipating their new record Definite Structures, which you can pre-order as of right now coincidentally enough.

Vanligt Folk, "Blott Mej Ska Du Ha"
Vanligt Folk are weird as fuck, full stop. Their sound has ranged from EBM to percussion heavy electro to loungey exotica, and that's only over the course of two EPs. Apparently they'll have a full length out this year, which is cool by us: we need more hard to pin down electronic music, and if it's Swedish to boot, all the better. Enjoy this song, which seems to be about…prawns? Don't ask us, man.

Orange Sector, "Das Erfrorene Herz"
German EBM greybeards are back with what looks to be their 13th album by our count. There are some slightly updated production tics, and even the odd metal-style (in structure, not sound) breakdown, but for the most part Night Terrrors looks to deliver exactly what you'd want from Orange Sector at this stage in the game: pure EBM with an even mix of stomp and swing.