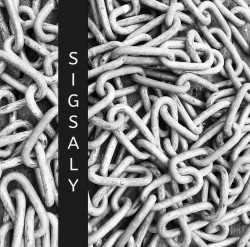 Sigsaly
self-titled
Squall Recordings
Sigsaly is the new project of Brittany West and Samuel Lloyd, the duo behind Vancouver darkwavers Koban. Divesting themselves of the bass and guitar that make up the wall-of-sound texture of that project and relying solely on synths, drum machines and vocals, their self-titled debut has a distinctly cool and collected vibe that jibes well with the punky elegance they've been refining in their recent work.
That said, the way Sigsaly's rhythm programming is presented is distinct from Koban. Opener "Push" has hints of Berlin-style new school EBM in its 16th note bassline and clicking cymbals, propelling West's contralto vocals through the vast cavern of reverb that envelops them. Similarly the buzzing "You Carry" relies on doubled and tripled kick placement and intermittent claps and snares to create variation, while the warbling synths on top of them move through simpler figures. The punchy, kinetic feel of those tracks really helps define Sigsaly's identity, driving home the tension between their uptempo drums and the minimal and opaque tone of their melodies.
Given that approach, it can't be understated how important West's voice is to these songs. Her cultivated but never aloof singing voice fits perfectly with the yawning chasms of "Ivory Towers", using some of the bite she displays in her work with cold-punk act lié while maintaining a deep measure of control even as the track grows more frantic around her. On the release's most arresting and quirky cut "Mothers" she provides whispers, monotone verses and a pitched climax as required, bringing a distinctly NDW feel to the proceedings. It's a striking enough performance that she becomes conspicuous by her absence on sole instrumental track "Decay", a fine enough song that you can't help wonder how she might have approached vocally.
At six songs and a little over 22 minutes in length, it's remarkable how fully-formed Sigsaly's ethos is. There's plenty of economy in their production and arrangements, but above all there's a purposefulness and significance to their musical choices that conveys gravity and meaning. Far from being a slight variation on what we've heard from them before, West and Lloyd make a case for their new project on its own terms, a new context for their considerable musical personality to shine.