Hey there pals! As we approach the end of the first third of 2015, we thought we'd take a moment to acknowledge the huge uptick in comments we've been getting here, and thank y'all for your feedback. While we understand that "don't read the comments" is a totally justifiable stance when perusing the average website, we've been completely floored by some of the awesome (and respectful) discussion and debate that has been going on here on ID:UD lately. That includes the times when we've made mistakes and folks have stopped in to let us know. Our mighty egos aside, it's kind of gratifying to know people care enough to set us straight. We're almost four years in on this nonsense, and it's interactions of all kinds that keep us doing it, so don't be shy if you wanna let us know what you think of anything we write or jaw about on the podcast. This website only exists for us to have those kinds of interactions, and your voice is welcome in our never-ending convo. Say, why not start by letting us know what you think of some of these here Tracks?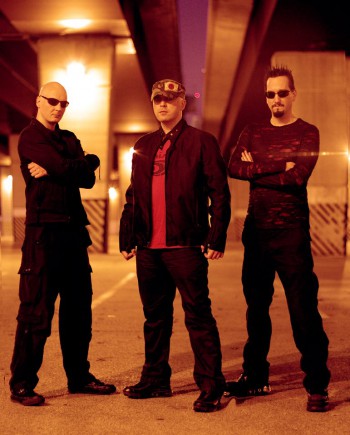 Mindless Faith, "Leachate"
Few bands in North American industrial have a workrate like Baltimore's Mindless Faith. Everything the band does just sounds good, from their rock solid industrial club tunes, to bootleg remixes of Daft Punk tunes to hella modern rivetrock. Check this number in the latter style from their forthcoming album Eden to Abyss, and marvel at that contemporary production married to some classic i-rock styles.

Worms Of The Earth, "Gnarled Roots Suspend The Ruined Temple"
We just checked the EP from Worms Of The Earth side project Venal Flesh, and now a mere two weeks later we have a new LP by WotR itself. Directly name-checking classic Cold Meat Industry releases and Kabbalah, Dan Barrett looks to be picking up where Azal'ucel left off, with a hell of a lot of Old Testament heresy and long passages of croaking darkness. This'll definitely merit some further investigation.

WIK▲N, "Damaged Core"
The Witch High class of 2010 continues to grow beyond their origins. The latest from UK's WIK▲N gets into housey-technoid as handily as it does ambient. A digital release of Nightfall is up via Pale Noir right now, with a vinyl release to come later in the year. We've said it dozens of times here, but it's been a real trip to watch so many projects which were sparked off by drag and the like spin off into sounds that are entirely their own.

100blumen, "Your Law"
We were saying on the podcast the other day that the term "electropunk" often emphasizes the former element way more than the latter. Not so with Germany's 100blumen, who hop back and forth between both sides of the equation with equal aplomb, as on this pretty excellent sample driven, d n' b-flavoured number. Their new album Under Siege drops May 2nd, but you can peep the whole thing now on Bandcamp, and maybe fire them a pre-order if you like what you hear.

Marsheaux, "Now This is Fun feat. James New"
In case you didn't catch our earlier gushing about it, please be assured that we loved Marsheaux covering the entirety of Depeche Mode's A Broken Frame. We don't seem to be alone in that, since the record has already spawned an extended CD release, complete with a new recording of era-appropriate b-side/bonus track "Now This is Fun". They even enlist Mirrors front man James New to do the lead vocal, which put us in mind of a remix Marsheaux did for said band, a longtime favourite around the HQ. Can these Greek gals do any wrong?

Council Of Nine, "Tower Of Silence"
Lastly, some dark ambient from the commonly awesome Cryo Chamber label. California's Council of Nine are a new act and Dakhma's set to be the project's first release, but it's coming hotly tipped by ID:UD contributor and dark ambient guru Danica Swanson, so that's good enough for us. This is actually a pretty rich track full of keys, chimes, and samples all weaving in and around one another.