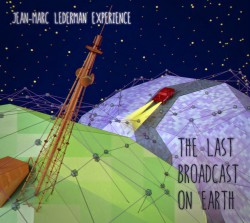 Jean-Marc Lederman Experience
The Last Broadcast On Earth
OFF
The dissolution of Ghost & Writer caused much gnashing of teeth at the HQ. Jean-Marc Lederman's productions always meshed perfectly with the restrained mystery we knew and loved Frank Spinath for, but also carried a slightly lighter and more quixotic feel than Spinath's other collabs. That sense of play is cut loose and allowed to run rampant on The Last Broadcast On Earth, in which Lederman's thirty-odd years in electronic music are drawn upon for a series of collaborative pieces meant to signify the final wireless setlist as things wind down due to some unspecified apocalypse. Commerce doesn't stop just because the world does, though, hence the intermingling of vintage radio ads, some of which are nearly a full century old, between tunes. The songs here trip the light fantastic, ranging from Gainesbourg-like reverie to hushed micro-house, but all with a melancholic nostalgia for the various periods of pop music we've used to delight and distract ourselves as we waltz towards ragnarok. The vocal turn from Jay Aston (yes, of Gene Loves Gezebel) on "So Long" has some of the wounded frailty I associate with This Mortal Coil, especially when set against a submerged chamber orchestra, and none other than Tom Shear crops up later in a "Twilight Zone" fragment. This certainly isn't "industrial" in the coarsest sense of the word, but could be placed on the same impressionist sample-happy spectrum as Art Of Noise, and maybe even the softer sides of In The Nursery. Goethe, Disney, and Nick Cave material all flit across the terminal dial, but it's Lederman's show through and through.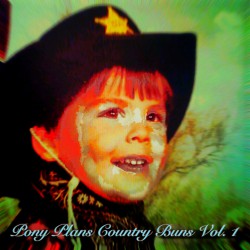 Pony Plans
Country Buns Vol. 1
self-released
Mutant industrialists Alter Der Ruine's heartbreaking 2014 full-length I Will Remember It All Differently was an emotionally difficult affair, made moreso by vocalist Michael Treveloni's fragile, slightly off-kilter vocals. Treveloni's recent solo-release under the Pony Plans moniker isn't as distressed, instead focusing on a whimsical to plain weird musical approach that lands him somewhere between electronic singer-songwriter and outsider musician. There's an appealing sense of liberty in these genreless outings, "Future Manuals"' far-off horns and druggy, distorted ambiance sitting right next to "Only Sound"'s budget fanfare and jittery keys. Treveloni himself flits between gravitas and eccentricity, modulating between each persona as needed on the over the top anthem "Weeds Grow/Look Right Through", never standing still long enough to be pinned to one synth music tradition and eventually segueing into the droll percussion based "Instrumental (Instrumental Version)". It's weird music, but compellingly so, playing off a nexus of the familiar and the far-out. Recommended.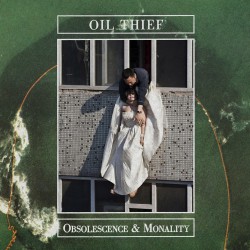 Oil Thief
Obsolescence & Monality
Chondritic Sound
Like Hank said, even if you've never heard of a band before, if they're on Chondritic Sound, you know what you're getting…sort of. Truth be told the label trades in just about all manifestations and sub-genres of electronic noise, making Oil Thief, the new project from LA's Lee Landley, a perfect fit. Power electronics, death industrial, classic Gristle noise, and a hint of the hypnotic proto techno that's been worming its way into noise in recent years all slowly cycle through Obsolescence & Monality. Landley's screeched vocals, which sound like they're coming from the bottom of a well, act more as a secondary rhythmic device than anything, adding nuance to long and incessant deathmarches. "Under The Sand" is as emblematic as anything on the LP, with repetitive pressure valve clanging and wheezing juxtaposed against more organic and loping textures. For something with an ostensibly dirge-like mood, it's a remarkably busy and dynamic track (and record on the whole), with plenty of elements oozing in and out of focus. Things close strongly with "Homesickness", in which a driving beat and harmonic pads seem to be at war with high pitched static and sine waves, almost determined to push through the chaos and impose order. A strong debut.