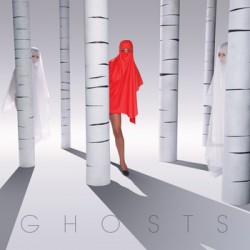 Soviet
Ghosts
Sound Red
It's been an odd, circuitous shuffle back to the synthpop spotlight for Keith Ruggiero's Soviet. 2001's We Are Eyes, We Are Builders had the band getting swept up in the great turn of the century electroclash hype (don't worry young'uns, you didn't miss much), but Soviet never matched that tagline. Builders was a classic synthpop record through and through, full of wistful melancholy and tunes which hopped from spritely, Vince Clarke-inspired dancefloor numbers to more elaborate instrumentals. Since then, it's been somewhat difficult to keep track of the project. A 2004 release, Spies In The House Of Love, attempted to integrate traditional rock sounds into the synthpop template but invites Cars comparisons it can't really measure up to. Far more enjoyable and instructive is Ruggiero's instrumental work, both as KAR Songs for 2005's Moving Pictures and as Soviet for the 2012 soundtrack to PBS film Life Begins At Rewirement. Both releases had Ruggiero reaching deeper into the history of the synthesizer, demonstrating a talent for reviving gorgeous earlier kosmische sounds even as he found ways of integrating brand new structures, all with the same ear for harmony and mood Builders was proof of.
All of that brings us to Ghosts, the (theoretical) return of the vision of the band set forth by Builders, with newcomer Chaz Windus joining Ruggiero and longtime collaborator Chris Otchy. On the whole the record lives up to that billing, offering up a suite of bittersweet synthpop gems which wring their strength from evocative harmonics and slight gear-shifts on breathy choruses. If anything, Ghosts plays its cards closer to its chest than Builders, and that's a strategy that pays off over repeat listens. Rather than going for the jugular with immediate catchy leads a la "Candy Girl" or "Marbleyezed", Ruggiero and co. opt for a more subtle slow-burn on tunes like opener "Onto Something" and the penultimate "Psychic City".
Ghosts also breaks with its predecessor somewhat in that it holds to a far more unified sound and song structure. Builders's forays into noodly instrumentals are largely abandoned, with only a brief vocal-less coda switching things up from the mid-tempo, "autumn just beginning to creep into summer" feel. "Subdivision"'s chilly bounce, somewhat reminiscent of a mid-period New Order B-side replete with early house and electro nods, is perhaps the one other exception. I'd say that Ruggiero demonstrates an awareness of what's happened in synth/pop crossover music since Builders by pointing out some similarities to the likes of Cut Copy and Hot Chip, but truth be told, he got to that nexus of older synthpop and pop du jour well before those acts. The end result of this smooth blend of old and new sounds is a listen which never wears out its welcome over a short run time, and gains far more from cultivated mood than it does overt melody. Much more Architecture & Morality than Speak & Spell, if you follow.
I'll admit that Ghosts' somewhat occluded style didn't take me by storm on my first couple of passes, but it was just so comfortable to slip into that the three or four listens it took to fully reveal its strengths weren't any sort of chore. Over the years, "Modern Love" has unquestionably become my favourite track on We Are Eyes, We Are Builders. Nowhere near as insistent as much of the rest of the record, its mottled drums and woozy pads spoke to a hushed, secretive brand of synthpop which still delivered an emotional punch even as it seemed to disappear into itself. I think that's a good signpost for Ghosts on the whole. Soviet's return isn't full of brash fanfare, but it feels stronger and more honest for its recalcitrance.