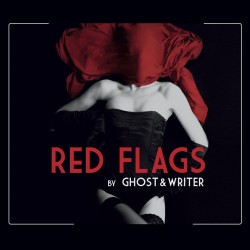 Ghost & Writer
Red Flags
Dependent/Metropolis
I came around to loving Frank Spinath's work far too late. By the time Seabound started getting play in North American clubs, I was almost entirely disenchanted with anything which could be construed as futurepop (Neuroticfish occupied the same lacuna). I'm pretty sure my subconscious was inserting big trance leads into my memory of tracks which didn't actually have any simply to justify my Stalinist purging of anything with an arpeggio to make room for more post-hardcore, deathrock, and shoegaze. Such dogmatic thinking gradually eroded, and as I was beginning to reopen myself to more melodic and bleepy material, I noticed that Spinath's disarming voice and thoughtful lyrics were at the center of many of the tracks which had begun to catch my ear again. By the 2011 release of Shipwrecks, Spinath's first release as Ghost & Writer with collaborator Jean-Marc Lederman of The Weathermen, I was fully on board, and loved that record's pithy observation and elegant, urbane synthpop/electro hybrid.
Red Flags very much feels like an organic progression from Shipwrecks, amplifying all of the aspects which distinguished it (and Ghost & Writer on the whole). Spinath's imagistic missives return, just as evocative as on Shipwrecks ("you keep scratching the faces of coins you've collected"), but it's the refinement of Lederman's compositions which gives Red Flags a head-start on the first playthrough. Tracks like "Hurricane" and "Shine" are tightly-wound, minutely calculated, but still bouncy, frantic, colourful and fun, like a box of hyper-kinetic wind-up toys set loose. Bass and kicks are in full supply, but it's the spritely leads which steal the show. Each pops up for just a moment, unique and fully fleshed, weaving around Spinath's smooth vocals like a bird before vanishing again into a maze of subtler textures and clicks.
Interestingly, some premonition of this newly tuned-up sound was given not only through the preview of "Gambit" a year back, but also in "Red Bank", a recent one-off tune from another of Spinath's projects, Edge Of Dawn (both tracks appeared on the Septic X comp), which Lederman has no part in. I've no idea if "Red Bank" was inspired by early Red Flags sessions, if Frank's taking a more hands-on role in the direction of tracks' production than I'd presumed, or if this is mere coincidence.
In any case, things get a tad slower and more stretched out to the end, and there are even some echoes of the old-timey crooning from Shipwrecks's "Nightshift" on the closing "(Do I Have) Your Word", but Red Flags's core tracks are never repetitive or a second longer than they need to be, clocking in at a tight 35 minutes. In spite of that brevity, you're still getting your money's worth. As with Shipwrecks, the remixes which mirror the originals' order and number kick the sound of Ghost & Writer in a few new directions without betraying the mood, giving a feel of curatorial re-presentation rather than shameless submissions for club consideration. Acretongue manages to append a piano which almost recalls the heyday of early trance and chillout to "Shine", and Iris do well with "Just The Same" but don't manage to quite reach the heights they did with their fantastic "From Hell" remix on the last outing. Personally, I think Diskonnekted's refusal to pledge allegiance to any style or sound puts them over the top with their version of "Repair". It might be the most club-friendly remix, but it's also the most ornamented.
Red Flags is an absolute no-brainer for long term Spinath fans, and I can't imagine that anyone who enjoyed Shipwrecks won't find plenty to love here. If you're coming to Spinath's work late as I was, Red Flags gives you a great chance to find out what the fuss is about just as his work with perhaps his best collaborator is reaching new heights.