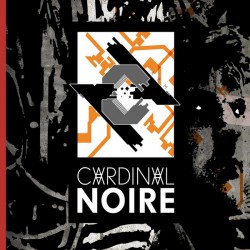 Cardinal Noire
self-titled
EK Product
It's not rooted in logic or objective history, but growing up an industrial fan from Vancouver in the 90s, I couldn't help but expand my appreciation for Skinny Puppy (and FLA and Numb to lesser extents) out to the point of a perceived stewardship of or belonging to an inherited legacy. These were bands whose members were notably older than myself who had developed worldwide fanbases, and yet I couldn't help but feel that they were "mine" in a special way. This was, needless to say, utter bullshit. I started listening to Puppy in 1995, just one year before The Process was released, and there was nothing about my appreciation for their music that distinguished me from a kid of the same age from, say, New York, and definitely no reason why my opinion should hold as much weight as that of a die-hard fan from Europe who'd been tracking the band since I was in short pants. I give this lengthy preamble only to say that when I hear bands who have obviously drawn inspiration from Vancouver's industrial history, a vestigial part of me wants them to do right by their sources. On their debut LP, Finland's Cardinal Noire touch all of the bases of the now classic Vancouver sound, demonstrating not only a real love for those records, but also a canny ability to tap into their more overlooked elements.
After an intro track, Cardinal Noire head straight for the classic electro-industrial fan's jugular with a tune that cinches the sort of funk-inflected bassline which Puppy did so well and yet so few have been able to follow up on. It's been long lamented that the funkier rhythms involved in the history of so many crucial industrial bands have been forsaken by their scions for the sake of metronomic simplicity, but "Narkomat" cuts no corners. The fluttering and complementary programming tics and flourishes which make music of this type feel both lush and claustrophobic are in full effect. Things carry on swimmingly with "MKIV: Eternal", which carries forth all of the orchestral majesty which C-Drone-Defect was capable of in their best moments, and provides such an insistent counterpunch to "Narkomat"'s loopy funk that I'm willing to overlook the overt jacking of the arpeggiated bassline from the end theme of Blade Runner near the end.
While "Narkomat" and others owe a good deal to the mid-80s electro-industrial template, "Flagellant" finds Cardinal Noire tackling a much more ornery beast: the sort of densely programmed, nightmarish soundscapes Puppy would later explore on Too Dark Park. Closers "Purgation" and "Mirror Shards" feel very much of a design that is all Cardinal Noire's own: while their component sounds are still rooted in the same base, their construction has an experimental confidence which speaks to the extant work of the band's members. Vocalist Kalle Lindberg's background in industrial-tinged death metal act The Republic Of Desire and the more EBM-minded Protectorate (with Cardinal Noire programmer Lasse Alander) serve him well here. Although the Ogreisms are much more overt on Cardinal Noire than on his previous projects, Lindberg has the confidence to put his vocals deservedly forward in the mix, where social and environmental messages are addressed with the sort of forthright aggression necessary for truly great work of this ilk.
To their credit, Cardinal Noire are wearing their influences proudly on their sleeve in interviews (and doing a decent enough job of keeping abreast of more recent events by name-checking Youth Code, By Any Means Necessary and High-Functioning Flesh) and on their artwork; any act that terms their work "Brapkunst" knows exactly what they're getting into and which listeners they need to please. On that front, Cardinal Noire's debut is a total success. While Necro Facility came into their own by taking an abrupt turn into pop territory with this sort of material, Cardinal Noire prove themselves capable of hanging with Vancouver's masters on their home turf.